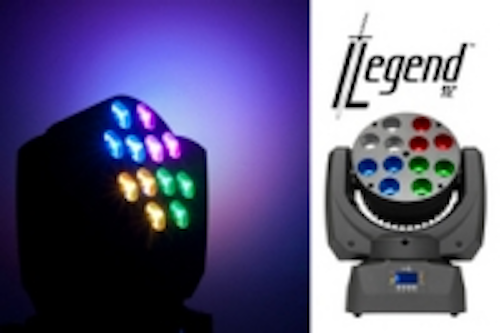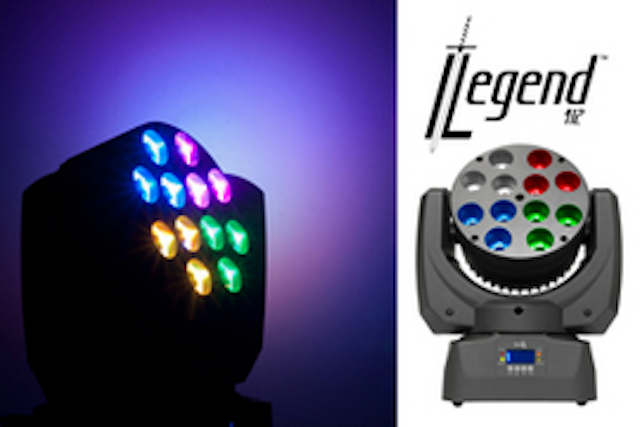 Date Announced: 11 Jun 2012
SUNRISE, Fla. – CHAUVET®, a leading manufacturer of professional lighting, announces its participation in PLASA Focus: Nashville 2012. The CHAUVET® Professional booth number during the two-day event, held at The Nashville Municipal Auditorium in Nashville, Tenn., is 302.
CHAUVET® Professional will show case the latest members of their Legend™ and COLORado™ families with Legend™ 412 and COLORado™ Zoom Tour, as well as the newest member of their Q-Series™ with Q-Spot™ 460-LED. Also featured, are Q-Wash™ 560Z LED moving yoke, MVP™ modular video panels and the wireless fixture WELL™.
CHAUVET® Professional Legend™ 412 is an innovative, pixel mapping moving yoke wash featuring 12 cutting-edge, quad-colored RGBW LEDs controllable in quadrants. Nimble and ultra-compact, this multi-purpose unit is capable of an excellent wash and mesmerizing dynamic chases. A variant of the Legend™ 412, Legend™ 412 VW, incorporates warm and cool white quad-colored LEDs for better, purer whites.
CHAUVET® Professional COLORado™ Zoom Tour are static LED wash lights that feature a variable zoom (COLORado™ Zoom Tour is eight to 30 degrees). Both generate precisely sized pools of light with built-in color temperature presets from 3,200K to 10,000K for constant, predictable color. Additionally, both feature three- and five-pin DMX in/out and Neutrik® powerCON® in/out connectors.
Q-Spot™ 460-LED includes a highly efficient patented optical system, a 16-degree beam angle, an easy-access gobo door, and shutter and strobe functions. Lightweight and easy-to-hang, Q-Spot™ 460-LED operates quietly with fast, precise pan and tilt movement complemented by a three-facet rotating prism and a motorized focus. Controlled by 11 or 14 channels of DMX, Q-Spot™ 460-LED feature 3- and 5-pin DMX input and output connectors.
Powered by 91 3-watt RGBWA Cree LEDs, CHAUVET® Professional Q-Wash™ 560Z-LED produces massive flicker-free output, while maintaining quiet operation. Its superior color mixing provides a better spectrum of color, from the most vibrant hues to subtle pastels. Quick pan-and-tilt speed works to get the fixture into position for great effects. Q-Wash™ 560Z-LED also features three- and five-pin DMX connections and a variable 6- to 32-degree zoom.
Powered by 12 3-watt tri-colored LEDs, CHAUVET® Professional WELL™ is great for color mixing without any multi-colored shadows. For control, standard DMX ports are available, as well as a Wireless Solution WDMX receiver—simply plug a transmitter (sold separately) into your controller and go. Each WELL™ runs on a 12-volt battery wire-free for up to 12 hours. Also available is a six-slot road case, which doubles as a gang charger for all the units.
CHAUVET® Professional MVP™ modular video panels are defined by their pixel pitch: MVP™ 37.5, MVP™ 18 and MVP™ 12. The uniform color created by tri-colored SMD LEDs and the wide-viewing angle incorporated in all three panels are essential to their sharp, high-quality image. The panels' semi-transparency adds dimension to any show while the flow-through design allows for temporary outdoor installations. Each panel measures 23.62 inches by 23.62 inches (600 millimeters by 600 millimeters) and includes Neutrik® powerCON® and etherCON® power and data connectors. The three panels share the same mounting hardware and can connect to form an LED video wall panel system of mixed resolutions. This offers great flexibility for a designer to access several different pixel pitches within one easily interlocked wall of panels.
Contact
CHAUVET Professional
Web Site:www.chauvetlighting.com/chauvet-pro/