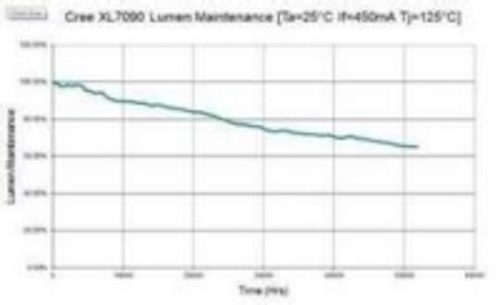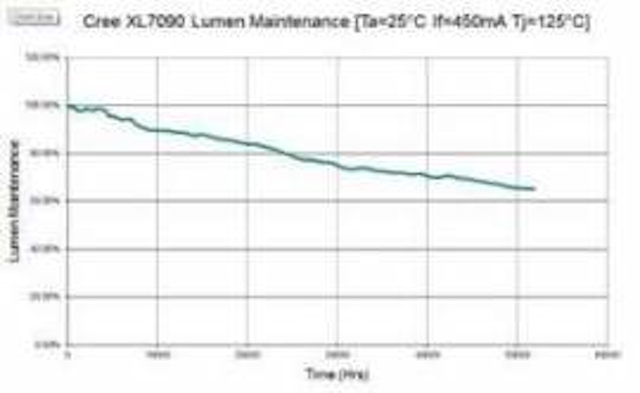 Date Announced: 13 Jun 2012
2006 seems a very long time ago in Lighting-Class-LED terms. Back then the industry was barely finding its feet. There were only a handful of Lighting Class LED manufacturers. And LED lifetime claims were often an unsubstantiated "…50,000hrs". And in 2006 there were no harmonised lifetime testing standards – IESNA-LM-80 and -TM-21 were but a twinkle in their authors' eyes!
With a passionate concern for LED reliability the Forge Europa team were mighty sceptical about all the promised claims for long life (indeed we still are!). So we started our own lifetime tests. And we can proudly announce that our first-generation Cree XL7090 white LEDs have recently passed the 50,000hrs point. But this was no ordinary lifetime test. In the absence of LM-80 we put some products on test at their absolute maximum junction temperature: 125°C. Just to see how quickly we could kill them. And to our utmost surprise, after 50,000hrs they are still giving out nearly 2/3 of their original lumens. This is like redlining a car in a 24hr Le Mans race – but doing it for nearly 6 years non-stop. So we salute Cree in praise of this awesome result.
And as for the LEDs? Well they've done so well we're going to leave them on test – watch this space after another 50,000hrs, in 2018!
For more information on Forge Europa's testing capability or our role as Cree Solutions Provider please talk to our sales team on +44(0)1229 580 000.
Contact
Sarah Simpson Forge Europa Tel: (01229) 580 000
E-mail:sarah@forge-europa.co.uk
Web Site:www.forge-europa.co.uk