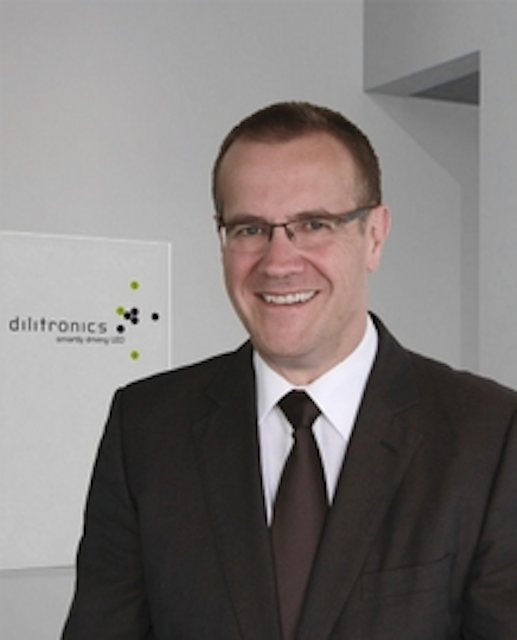 Date Announced: 21 Jun 2012
Jena – dilitronics GmbH (www.dilitronics.com), developer of LED drivers and LED system solutions, is strengthening its sales activities. With immediate effect, Gerhard K. Albert will be applying his extensive sector experience as Director of Sales of the Jena-based experts for LED technology. Graduate engineer Albert comes to dilitronics from the high-tech company Scansonic IPT. As an experienced sales specialist, he will establish the international sales structures within growth-oriented dilitronics and open up new business segments for the company.
As Stephan Schulz, Managing Director of dilitronics GmbH, explains: "With Mr Albert we have been able to win over an acknowledged expert for our international sales of high-tech products. With the sales and marketing team, he is responsible for both national and international activities of dilitronics technology."
Albert has many years of international experience in sales and marketing of electrotechnical and electronic components, and a large network of contacts in the fields of automation technology and energy supply. Following his engineering studies, he was employed by a number of industrial automation, lighting and installation technology companies, including AEG. His core areas of expertise lie in strategic realignment of sales and marketing, establishment of an international distribution network and professional support of Key Account customers.
dilitronics has within a short period of time successfully positioned itself as a technical leading provider in the market of LED drivers and solutions. During the past few months the sales team has already been expanded, and with the new Director of Sales it now comprises a total of seven staff. The objective is expansion of the international sales and marketing structures and development of new areas of business for the company.
For Downloads please visit: www.dilitronics.com/Service.7.0.html
About dilitronics:
dilitronics GmbH was founded in the spring of 2008 in Jena, Germany. As a technological leader in the field of driver electronics for high-brightness LEDs, dilitronics GmbH develops control solutions for innovative LED applications and offers fully assembled LED system solutions "out of one box". The dilitronics products are used both outdoors for street lighting applications and indoors for energy-efficient lighting, for example in hotels, office buildings and shopping centres. LED solutions from dilitronics are also used in the automobile industry. Further information on the company is available at www.dilitronics.com.
Contact
dilitronics GmbH Felsbachstr. 5 D-07745 Jena, Germany Tel.: +49 3641-875757 1 Fax: +49 3641-875757 9
E-mail:pr@dilitronics.com
Web Site:www.dilitronics.com