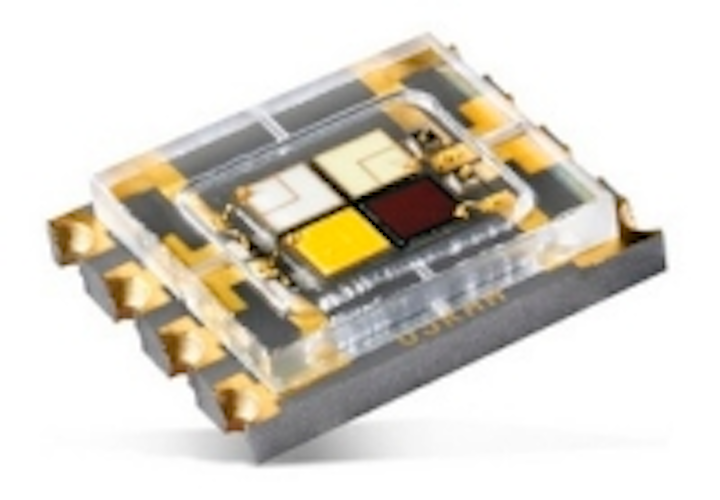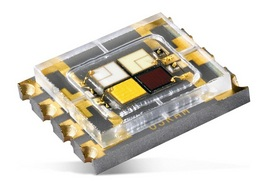 Date Announced: 05 Jun 2012
Mouser Electronics, Inc., regarded as a top design engineering resource and global distributor for semiconductors and electronic components, today announced it is stocking new LEDs from OSRAM Opto Semiconductors.
OSRAM Ostar Stage LEDs offer an extremely slim, 1.23mm high profile, made possible by a flat glass cover with an anti-reflective coating. The new flatter profile allows these LEDs to provide the basis for compact spotlights with a very narrow beam and high luminance. The glass cover has been optimized specifically for injecting light into lens systems, enabling a narrow light beam of +/- 9º to be produced. This beam is smaller by factor 2 than that of spotlights based on plastic-encapsulated LEDs and also increases the luminance of the spotlight by factor 2.
The Ostar Stage LEDs are based on the OSRAM Ostar SMT platform and contain four different chips in red, green, blue, and white, allowing them to produce virtually any color. All four chips are manufactured using efficient thin-film technology so that most of the light produced internally is emitted at the top and more light can be focused in the customer optics system. These LEDs are ideal for moveable stage lights which provide powerful light beams for rock concerts and other impressive lighting arrangements. To learn more, visit http://www.mouser.com/osram-OstarStage/.
With its broad product line and unsurpassed customer service, Mouser caters to design engineers and buyers by delivering What's Next in advanced technologies. Mouser offers customers 19 global support locations and stocks the world's widest selection of the latest semiconductors and electronic components for the newest design projects. Mouser Electronics' website is updated daily and searches more than 8.9 million products to locate over 3 million orderable part numbers available for easy online purchase. Mouser.com also houses an industry-first interactive catalog, data sheets, supplier-specific reference designs, application notes, technical design information, and engineering tools.
About Mouser Electronics
Mouser Electronics, a subsidiary of TTI, Inc., is part of Warren Buffett's Berkshire Hathaway family of companies. Mouser is an award-winning, authorized semiconductor and electronic component distributor, focused on the rapid introduction of new products and technologies to electronic design engineers and buyers. Mouser.com features more than 3 million products online from more than 450 manufacturers. Mouser publishes multiple catalogs per year providing designers with up-to-date data on the components now available for the next generation of electronic devices. Mouser ships globally to over 375,000 customers in 170 countries from its 492,000 sq. ft. state-of-the-art facility south of Dallas, Texas. For more information, visit http://www.mouser.com.
About OSRAM Opto Semiconductors
OSRAM Opto Semiconductors is a world leading manufacturer of optoelectronic semiconductors for the lighting, sensor, and visualization sectors. The extensive product portfolio of OSRAM Opto Semiconductors includes a wide selection of high-brightness high-power LEDs in the visible range along with other semiconductor technologies used in a variety of lighting applications.
Contact
Kevin Hess, Mouser Electronics Vice President Technical Marketing (817) 804-3833
E-mail:kelly.degarmo@mouser.com
Web Site:www.mouser.com/