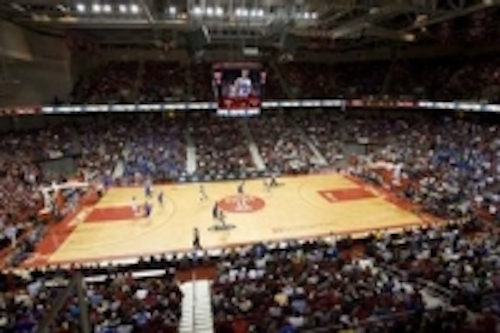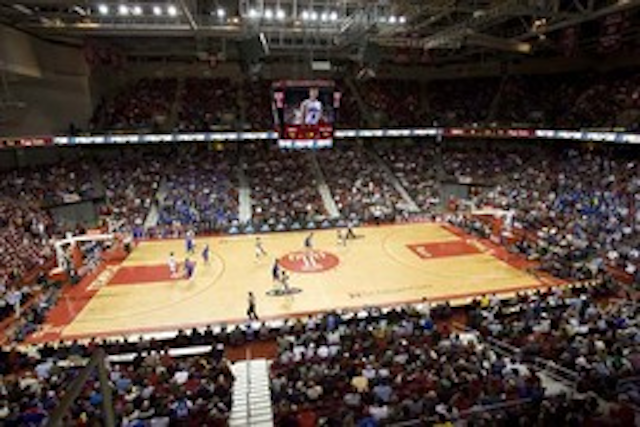 Date Announced: 05 Jun 2012
New center-hung scoreboard to be unveiled for the 2012-13 season as Owls prepare to join BIG EAST Conference
Philadelphia – Temple University and ANC Sports Enterprises have formed a multiyear partnership to enhance the fan experience at the Liacouras Center through a new video system featuring high-definition quality visuals across more than 1.7 million pixels.
ANC Sports will spearhead the design, installation and operation of the new display system which will be highlighted by a center-hung scoreboard consisting of four Diamond Vision™ video screens, each measuring more than 7 feet high and 10 feet wide. The center-hung structure will also include four ANC Sports' scoring LED displays capable of full motion graphics, each measuring more than 3 feet high and 10 feet wide. Floating beneath the scoring matrixes on the center-hung structure will be an ANC Sports' LED ring which will display animated University branding, crowd prompts and sponsor acknowledgments.
"Temple University is committed to creating a lively venue atmosphere for its student-athletes, students, alumni and fans," said Bill Bradshaw, Temple University's Director of Athletics. "This new display system will create an emotional environment at the Liacouras Center which will change how sports, music, graduation and other events are experienced on our campus."
Richard Rumer, Associate Vice President for Business Services at Temple University, and Fran Rodowicz, General Manager of the Liacouras Center, concurred, " We are excited about the impact the new board will have on the overall fan experience both at our basketball games with videos and replays as well as the impact on some of the other quality events hosted at the Liacouras Center ."
The new center-hung scoreboard will bring more than 1800 square feet of dynamic content, including live action, replays, game animations, team logos, student athlete introductions and real-time statistics to the 10,200 seat venue. Complementing the center-hung scoreboard will be a new ANC Sports' LED ribbon system spread across the Liacouras Center's 200 Level façade.
Driven by ANC's VisionSOFT™ operating system, the Diamond Vision LED video screens and all of ANC Sports' LED displays will be fully integrated. Visuals will synchronize together to appear as one theme or segment into different elements to provide fans with various information and entertaining content. Internationally recognized, VisionSOFT is the only control system in sports to deliver uncompressed visuals to its displays, creating the clearest visuals possible at the Liacouras Center.
Through the multiyear partnership, ANC will operate and maintain the signage during all events at the Liacouras Center. Additionally, ANC will create all the content and statistical layouts for the entire signage system.
"We are excited to partner with Temple University to create one of the premier collegiate event experiences at the Liacouras Center," said Jerry Cifarelli, president and chief executive officer of ANC Sports. "Our operating system, creative services and display technologies will provide the University with the opportunity to create a unique atmosphere every night through the display of incredible visuals that are integrated with statistical data."
The new signage expands ANC's relationship with Temple University, which began featuring the company's DLP® Courtside Signage for events at the Liacouras Center in 2007.
Contact
Michael Hopkins ANC Sports Enterprises 914-696-2100 ext. 139
E-mail:mhopkins@ancsports.com
Web Site:www.ancsports.com