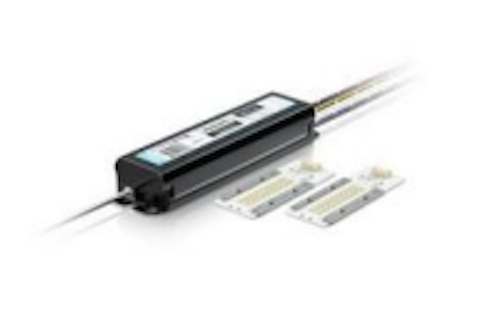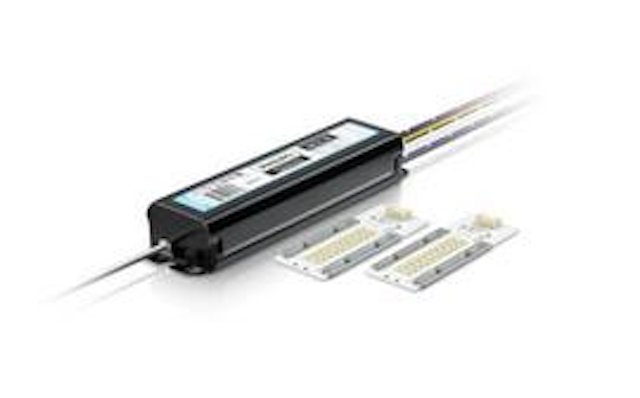 Date Announced: 27 Jun 2012
The new Fortimo LED HBMt module offers a choice of 4000 and 6000 lumen in the same form-factor. Both lumen packages are available in cool white (5700K) and neutral white (4000K) light.
When the technology platform was released in 2011, Philips committed to make Fortimo LED high brightness modules Zhaga compliant. All the necessary adjustments in dimensions have been made to ensure that the Fortimo LED HBMt is based on Zhaga Book 4 specifications. Additionally, the module delivers a dramatic improvement in heat management compared to Gen1. Thermal specifications have improved from a Tcase of 75 °C to a Tcase of 85 °C.
As a Fortimo product, the module is future-proof– LED efficiency improvements are incorporated into the platform, so the mechanical, electrical and optical specifications will not change.
All Fortimo LED modules strive to lead in energy efficiency and Fortimo LED HBMt features the latest Luxeon R LEDs from Lumileds, delivering up to 115 lm/W on a module level.
When the Fortimo LED HBMt is combined with a Xitanium LED Xtreme driver, the remarkable energy savings and CO2 reductions achieved with LED lighting solutions are extended even further with dimming.
The small form factor and high-lumen output of the Fortimo LED HBMt makes it a virtual LED lamp- the compact light emitting area works with traditional reflector optics. This allows luminaire creators to realise full benefits of a LED light engine without the complexity and high R&D costs associated with individual lens optics. The module is designed for outdoor applications such as road lighting, flood and area lighting, urban street lighting and tunnels.
The compact size and high CRI also make it an excellent replacement for high-wattage metal halide lamps in indoor applications as highbay warehouses and retail environments.
The four Fortimo LED HBMt product types as well as the system Xitanium LED drivers are commercially available now.
About Royal Philips Electronics
Royal Philips Electronics of the Netherlands (NYSE: PHG, AEX: PHI) is a diversified health and well-being company, focused on improving people's lives through meaningful innovation. As a world leader in healthcare, lifestyle and lighting, Philips integrates technologies and design into people-centric solutions, based on fundamental customer insights and the brand promise of "sense and simplicity". Headquartered in the Netherlands, Philips employs approximately 122,000 employees with sales and services in more than 100 countries worldwide. With sales of EUR 22.6 billion in 2011, the company is a market leader in cardiac care, acute care and home healthcare, energy efficient lighting solutions and new lighting applications, as well as lifestyle products for personal well-being and pleasure with strong leadership positions in male shaving and grooming, portable entertainment and oral healthcare. News from Philips is located at www.philips.com/newscenter.
Contact
Peter Halmans Philips OEM Light Sources & Electronics EMEA
E-mail:Peter.Halmans@philips.com