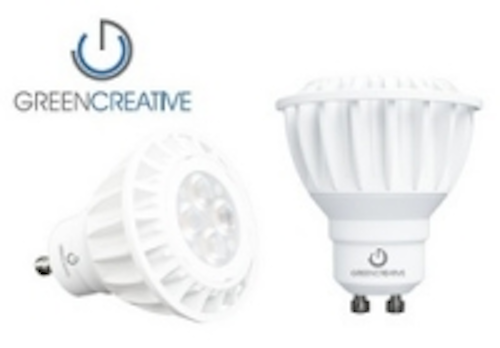 Date Announced: 19 Jun 2012
San Mateo, CA - GREEN CREATIVE LLC, the specification grade LED lighting manufacturer announces the availability of its new 7W GU10 LED retrofit lamp.
It is the perfect solution for replacing inefficient halogen GU10 lamps that are very common in recessed downlighting or track lighting applications. Unlike the MR16 GU5.3 which runs on 12V and requires a transformer, the GU10 MR16 is a line voltage product. The GU10 has been used more and more frequently over the years due to its ease of installation and less expensive initial cost.
While the MR16 GU10 is an economical installation, the running costs are very high. The lamp is extremely inefficient (much less than the 12V GU5.3) with an average lifetime around 1,000 hours, requiring frequent replacement. In addition, the unit cost of the halogen lamp is also higher than the 12V version.
Therefore, GREEN CREATIVE's new GU10 MR16 LED lamp is the perfect retrofit solution for solving all the above issues. With only 7 watts, the new product will replace 50 watts while offering 85% electricity savings and a lifetime rated at 30,000 hours, 30 times longer than a traditional lamp.
Also, the lamp is compatible with most existing incandescent and halogen dimmers for an easy retrofit installation.
The product is available through GREEN CREATIVE distributors. For more information on where to purchase the products near you or how to become a distributor, please contact us at: sales@gc-lighting.com or +1(866) 774-5433.
Datasheets and detailed information about these new products available at: http://www.gc-lighting.com/products/gu10-7w-dimmable/
About GREEN CREATIVE LLC
GREEN CREATIVE is a major solid state lighting development, sourcing, and manufacturing company specialized in providing high quality LED lighting products. The company is committed to provide only relevant high performance products that have been rigorously engineered, manufactured and tested for the demanding commercial market.
Contact
GREEN CREATIVE LLC 1670 S. Amphlett Blvd. San Mateo, CA 94402 Tel / Fax: +1 (866) 774-5433
E-mail:info@gc-lighting.com
Web Site:www.gc-lighting.com