Spaulding Lighting announces new ECL1PSE backlight control system for Cimarron LED series
Jun 7th, 2012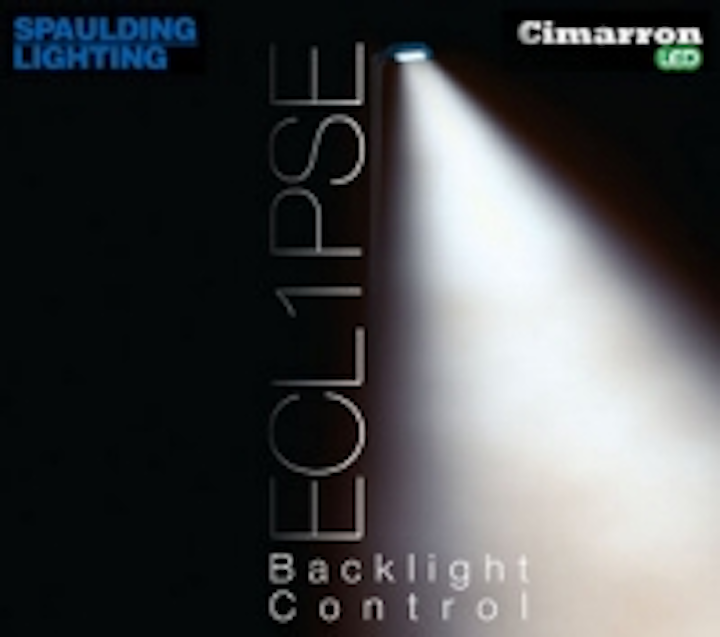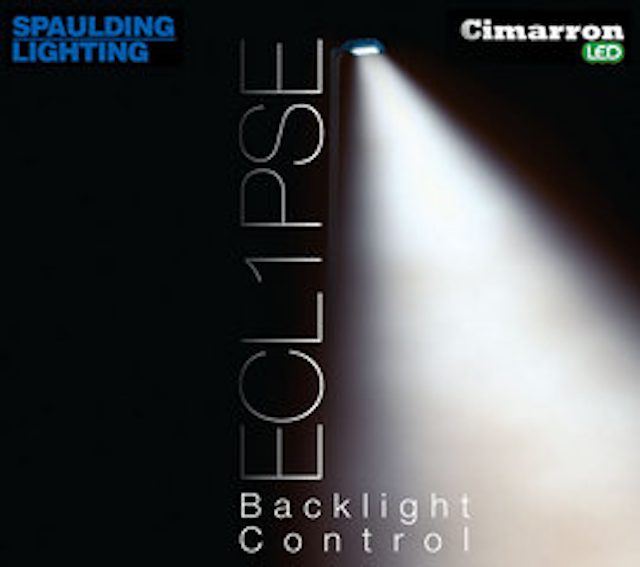 Date Announced: 07 Jun 2012
Greenville, SC – Spaulding Lighting, a Hubbell Lighting Inc. brand, is proud to announce that their most popular area site lighting fixture, the Cimarron LED area site light is now available with a backlight control option. The ECL1PSE Backlight Control is a unique system that will reduce the amount of light spill directly behind the pole but will not affect the overall EPA of the fixture. The ECL1PSE Backlight control reduces the amount of light spill behind the pole by approximately 85% and yet enables light to be delivered where it is required with an impressive Backlight-Uplight-Glare (BUG) rating. Designed specifically for LED Lighting, this unique system is an ideal neighbor-friendly solution for projects that require minimal light behind the pole for installations that are close to the street or a neighbor's property line.
The Cimarron LED Series was designed with the most advanced LED lighting technology to deliver energy efficiency, safety and security. It is available in configurations offering Type II, III, IV and V distributions in four high brightness LED configurations for a perfect balance of design, form, function and efficiency.
The Cimarron LED features a solid die-cast housing assembly with a sleek architectural profile that is not affected with the addition of the ECL1PSE Backlight Control. The energy efficient fixture will perform virtually maintenance-free and is designed to IP65 and 60,000 hours life. Further options of this versatile area fixture include a vandal shield for additional protection, bi-level or continuous dimming and the latest in wiHUBB wireless controls.
CIMARRON LED SERIES FEATURES:
•New -- ECL1PSE Backlight Control Option
•Four lumen packages of 5K, 10K, 15K and over 22K lm
•Vertically-finned die-cast housing optimizes heat transfer to keep the fixture cool and maximize component life
•DesignLights Consortium (DLC) approved (5000K)
•High brightness LED technology optimized with 24 LED light engine configurations in IES type II, III, IV and V distributions
•Maintenance free housing designed to IP65 and 60,000 hours life
•Vandal Shield Guard option
•Energy control option uses less than 50% of the energy of an equivalent HID at full brightness
•Internal self-monitoring sensor detects above-tolerance temperatures and automatically reduces heat load to preserve LED life
•Mounting versatility with choice of traditional straight or architectural upswept die-cast aluminum arm designs or new mast arm fitter
•UL , CSA, IP65
For additional information on the Cimarron LED Series, visit www.spauldinglighting.com.
# # #
About Hubbell Lighting:
From its inception in 1963, Hubbell Lighting established its position in the lighting industry by producing outdoor lighting of the highest quality. Through an in-depth knowledge of the electrical distributor and contractor markets, Hubbell Lighting has been consistently able to combine innovative technology with practical lighting brand solutions and service oriented performance. Hubbell Lighting provides a full range of indoor and outdoor lighting products for commercial, industrial, institutional, sports lighting, landscape and residential markets, including green initiatives for vacancy sensors and daylight harvesting controls.
Contact
Hubbell Lighting
E-mail:press@cfwevents.com
Web Site:www.spauldinglighting.com