Spark showcases remote control LED panel light
Jun 28th, 2012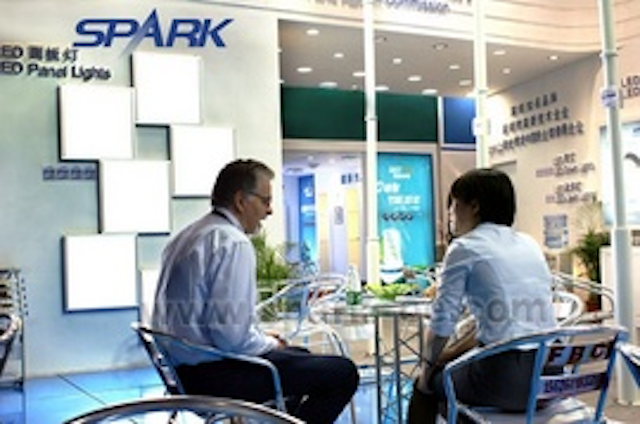 Date Announced: 28 Jun 2012
From June 9 to June 12, 2012, Shenzhen Optoelectronics S&T Co., Ltd attended the 17th Guangzhou international lighting exhibition, The booth covers more than 150 square meters, and has showed so many LED products, such as LED street light, LED tunnel light, LED traffic light, LED tube light, LED panel light, LED Wall washer light, LED plant growth light and etc.. Among them, Spark LED panel light are with fashion design, soft and uniform light, and remote control, they are quite popular.
Shenzhen Optoelectronics S&T Co., Ltd was established in March 2000, is Shenzhen Top Brand and National Hi-tech enterprise which specializes in developing, manufacturing and marketing LED lighting products. With strong research and development capability, professional technical team and substantial experience in the LED industry, we launch new products beyond customer's expectation every year, which always lead development trend in the LED industry. The marketing team of Spark has been extended to over 150 countries and regions including Europe, America, Oceania, Africa, Southeast Asia, the Middle East and Japan. Also win a good market share in China.
SPARK's LED Panel Light can save more than 65% energy than the traditional lamp, with aluminum alloy lamp body and PMMA screen, fashionable design, also with soft and uniform light effect, no flicker, no discomfort glare, no noise, no mercury and UV, environmental friendly. Spark has two series of panel light: IR remote control LED panel light and wireless remote control LED panel light.
If you want to control numbers of panel light in a large room, then need connect all the panels with wires. Then you can use an IR remote controller to control the panel at the same time. Its performance is stable and can be controlled at any distance. The wireless controller can control numbers of panel light within 15meters and no need the wires. The wireless LED panel lights are one of the new technical products of Spark. And Spark's other kinds of low power LED panel light are on the developing too.
Contact
Keziah Song General Manager Tel: (86 755) 8390 4366 Fax: (86 755) 8390 4766
E-mail:sales@spark-oe.com
Web Site:www.spark-oe.com