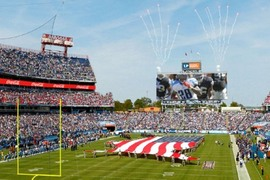 Date Announced: 12 Jun 2012
ANC & Titans Form 10-Year Partnership to Transform LP Field Experience
ANC Sports Enterprises and the Tennessee Titans have partnered to install the 2nd largest video screens in the National Football League and 4th largest in North American sports at LP Field.
Two high-definition video displays measuring 157' wide by 54' high will be placed at each end of LP Field. Each display will feature 8,478 square feet of LED signage, becoming the largest end zone video screens in the world.
The signage, funded entirely from revenue from events at the stadium, will be unveiled prior to the Titans preseason game against the Arizona Cardinals which will be broadcast on ESPN at 8:00pm eastern on August 23rd.
ANC is spearheading the manufacturing, installation, and operation of the LED video screens which will be the first 16mm SMD LED displays in the NFL, providing Titans fans with pure pixel to pixel high-definition visuals. Driven by ANC's internationally recognized VisionSOFT™ operating system, the displays will feature uncompressed content, creating the clearest images in the League.
"We are excited to partner with ANC Sports to provide our fans with unprecedented visuals, dynamic animations and in-depth statistical analysis which can't be found anywhere else," said Don MacLachlan, executive vice president of the Tennessee Titans. "The new video system will generate an energetic game day environment through the most vibrant displays in the NFL."
The two main video screens will be joined by over 1300 linear feet of ANC's 20mm LED fascia signage that will measure more than five feet tall. Approximately 680' of dynamic digital signage will travel down each sideline in between the two suite levels at LP Field, displaying game day stats, fantasy football information, team animations and sponsor acknowledgements.
ANC and the Titans formed a 10-year partnership which includes ongoing maintenance, content creation, display usage consultation, and operation. Currently, the two organizations are working together to develop game day presentations which will maximize the more than 24,000 square feet of LED technology.
"We are excited about the opportunity to form a true long-term partnership with the Titans to be a part of the vision to make the game experience at LP Field the very best in the NFL," said Jerry Cifarelli, president and chief executive officer of ANC Sports. "Over the next ten years, together we will utilize the most state-of-the-art signage and software to combine video and sound elements into a unique presentation that represents the Nashville marketplace."
In addition to displaying uncompressed video content, ANC's VisionSOFT operating system will enable unprecedented synchronization of all the technologies at LP Field, including featuring one video and sound theme throughout the stadium or seamlessly segmenting into various parts to display stats, live video, player images and advertising content.
About ANC Sports
ANC Sports Enterprises, LLC, is the industry leader in team and venue services, providing integrated signage, design, and marketing solutions for sports and commercial facilities. ANC Sports and its divisions: ANC Technologies, ANC Design, and ANC Marketing, offer Light Emitting Diode (LED), rotational and fixed visual displays; advanced media control systems; signage operation and maintenance; advertising sales and marketing consultation; graphic design; and printing production. ANC Sports' original LED video displays are manufactured jointly between ANC and its partners utilizing the highest quality LED components from the world's top suppliers. ANC Sports provides signage solutions for 200 plus venues/stadiums in North America. For more information on ANC Sports, please visit its web site at www.ancsports.com.
Contact
Michael Hopkins ANC Sports Enterprises 914-696-2100
E-mail:mhopkins@ancsports.com
Web Site:www.ancsports.com