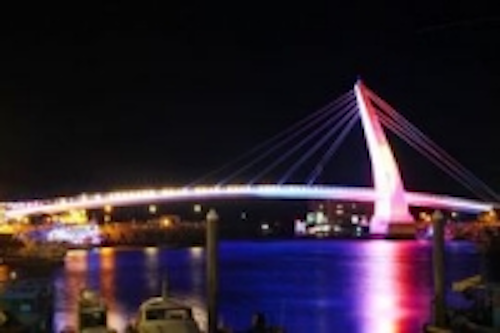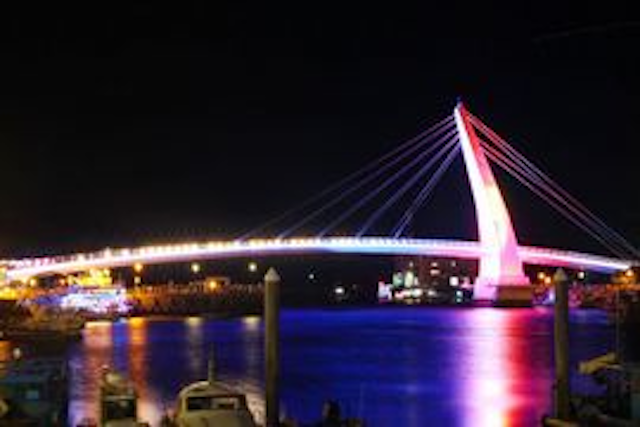 Date Announced: 25 Sep 2012
Lover Bridge, completed in 2003, is a well-known landmark in Tamsui; It is attractive of sparking and golden sunset. Under the sun, Lover Bridge looks vibrant and lively. In the sunset, the lovers on the bridge form a classic love scene. At night, with the colorful lighting, the bridge shows its mysterious and romantic attraction.
Lover Bridge was illuminated in white halogen lamps to show the diversities of style in recent 10 years. However, in recent years, environmental-protection consciousness has been continually enhanced; it is redesigned with the LED lighting fixture to replace the halogen lamps of higher power consumption and lower performance.
The lighting shows are edited with the concept of romantic rainbow to display the weekdays, holidays and special festivals with the different styles.
The Love Bridge is a white cable-stayed bridge with the single tower, steel wire rope and the new style is to redesign the outdoor lawn sculpture park and fountain with LED lighting fixtures. Controlled by ARC's LED lighting total solution, the sleek bridge is installed with the ARC LED strips of the facilitated waterproof connector design which is to simplify the construction. The tower is installed with the full color LED lights of waterproof, corrosion resistant and lightweight design to resist the weather conditions.
The bridges' lighting shows are customized and consist of weekdays, weekends and the special festivals, which is designed by the concept of the romantic rainbow with using ARC lighting controller and the unique lighting software to create an art-like atmosphere at Fisherman's Wharf in Tamsui.
Contact
ARC SOLID-STATE LIGHTING Joyce Chen TEL : +886-8227-8217#613
E-mail:joycechen@arclight.com.tw
Web Site:www.arclight.com.tw