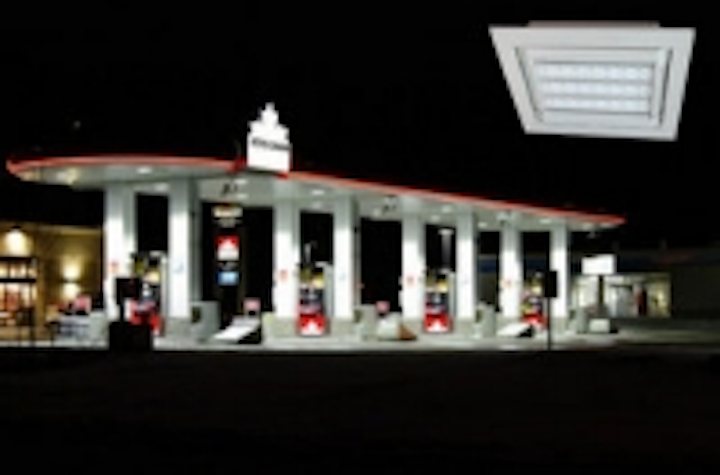 Date Announced: 21 Sep 2012
Product Features-Amberstar 112W, 11206lm LED Canopy Light:
We proud to announce Amberstar series canopy light (AG-H056Tb) were chosen to install by Petro- Canada in Canada last month.
Amberstar series canopy light earn she's place from lots of world famous lighting manufacturers in North American with its advantage design, high quality and competitive pricing.
We expect Amberstar series can service America market well and we always offering our excellent products with first-class services, technical support including responsibility warrantee services.
1. Applied with top grade LED from CREE XPG-R3.
2. LED Luminous Efficiency: 122-130 lumens/w.
3. Reliable and high efficiency driver from Philips /Advance.
4. Modular design ,carring big range of power from 28W to 252W.
5. Ideal replacement of 100W and 900W conventional HPS lamps/75W-1000W MH lamps, saving more than 70% energy.
6. Open air ventilation design ,good heat dissipation function.
7. Creat the beam patternthrougn non-image optics system,improve the lumen output ratio.
8. Easy installation and maintenace.
9. Long operation life time, above 50,000 hours. Low maintenance costs.
10. Instant ON/OFF operation, no more waiting for warm up.
11. Superior color rendition compared to conventional industrial luminaire.
12. Selectable color temperature.
13. Resistant to shock and vibration.
14. Application place : Express way ,main road , national road,rural road.
Ambergreat Electronics Pte Ltd is a major LED street lamp, LED tunnel light, LED gas station light, LED parking garage light,LED garden light and LED high bay light manufacturer. We have a highly professional R&D team and professional sales and services in Singapore and our manufacturing factories in Shenzhen, Guangdong, China. During the past ten years, Ambergreat has been keeping providing high quality and effective services for all valued customers. We keep pace with the up-to-date technology in the illumination industry, and in recent years, Ambergreat has been specializing in the LED project market especially in LED street lamp, LED tunnel light, LED gas station light, LED parking garage light,LED garden light and LED high bay light.
Since the recommendation of Ambergreat high power LED street lights which are widely used in road lighting all over the world, Ambergreat has been dedicated its full energy to the research of professional LED lighting products and the improvement of LED technology. And starting from August, 2010, Ambergreat High power CREE LED street lighting have been fully upgraded, they will recommend higher efficiency, higher energy-saving rate, less heat release and less degradation high power new LED street lights series.
Ambergreat the latest generation of LED Street Light, Using high brightness Original American CREE LED street lights (LED light efficiency: 122-130lm/W),and At this time, Ambergreat LED have reached long strategic business cooperation in the semiconductor lighting to guarantee our customers better quality lighting source. The latest generation of LED street lights will all use high brightness American CREE LED. And this kind of cooperation is complied with idea for upgrade UL LED street lights. It will be more reliable and effective to solve the heat release issue and keep the quality of Ambergreat LED street lights more stable.
Achieving high luminous efficiency, low power consumption, excellent heat dissipation, energy saving rate 70%Based on the classic modular design first generation LED street lights, Ambergreat latest generation improves the module design. using the latest high brightness Original American CREE and the latest Ambergreat lens and the excellent heat dissipation design, the light efficiency is much higher and much more effective. This design of new generation LED street lights have really achieved a high luminous efficiency, low power consumption and excellent heat dissipation characteristics. By scientific calculating, compared to the first generation LED street lights, lighting efficiency of the whole LED street lights can raise by 42%, and the energy saving rate can be increased by 25%.
The latest generation of Amberstar series Warrantee are 5 years.
Please feel free to contact us(www.ambergreat.com) Now!!!
Contact
Bran Marketing Department Ambergreat Electronics Pte Ltd Singapore 258 Boonlay Dr#06-513 Singapore 640258 Tel:0065-68982180 0065-67913539 Fax: 0065-63382898
E-mail:sales@ambergreat.com
Web Site:www.ambergreat.com