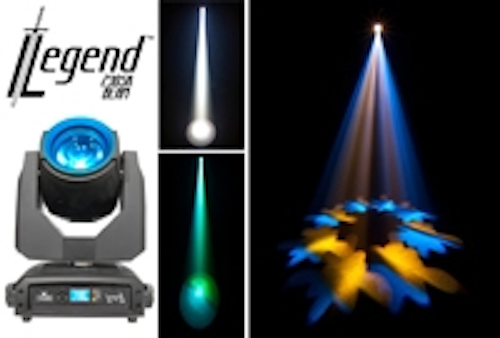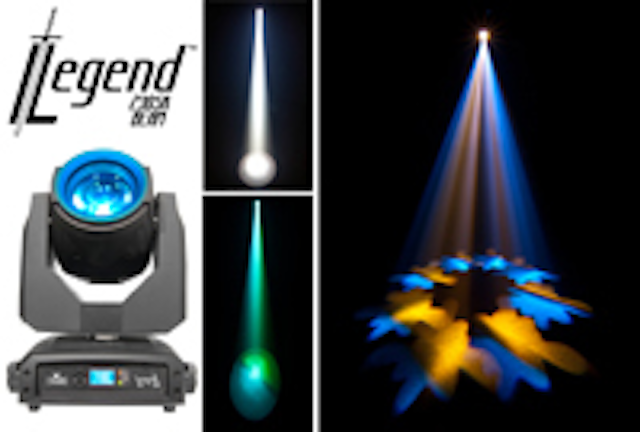 Date Announced: 25 Sep 2012
Sunrise, Fla. — CHAUVET® Professional, a manufacturer of entertainment lighting and related accessories with the widest, most innovative ranges of LED-fitted fixtures, showcases a diversity of products at LDI, booth 2263. After receiving wonderful feedback from attendees at PLASA 2012, CHAUVET® Professional will display soon-to-be-available fixtures from the Ovation™ series of theatrical luminaires, the latest member of the Legend™ series of professional moving yokes Legend™ 230SR Beam, the Q-Series™ with Q-Wash™ 436Z-LED moving head, as well as the VIP™ Series additions with PVP™ S5 and PVP™ S7 solid video panels.
CHAUVET® Professional Ovation™ F-165WW is the first Fresnel-style fixture in the new Ovation™ line of theatrical lighting fixtures from CHAUVET® Professional. Powered by 16 10-watt LEDs, Ovation™ F-165WW delivers over 1,500 lux at 5 meters (13 degrees) without a significant temperature-related drop off. The fixture has an easily adjustable motorized zoom and barn doors to aid in glare reduction and beam shaping.
CHAUVET® Professional Ovation™ E-190WW is styled after the ellipsoidal spot fixtures that have become a mainstay in the theatrical market. Powered by 19 10-watt LEDs, Ovation™ E-190WW delivers over 2,600 lux at 5 meters. Both fixtures feature class-leading output with a color temperature of 3100K, a beautiful flat field and selectable dimming curves, blending easily into existing systems. Ovation™ E-190WW also has standard beam shaping shutters, a gobo/effect slot and lens barrels that are interchangeable with other popular ERS fixtures.
CHAUVET® Professional Legend™ 230SR Beam is a compact, lightweight, intensely bright moving head beam luminaire, built for touring, live events, television sets or clubs. Legend™ 230SR Beam houses an Osram Sirius 230-watt lamp, which makes this fixture strikingly bright at 96,000 lux at 15 meters. The incorporated high-quality glass optics and 8-facet rotating prism with zoom capabilities and motorized focus contribute to flawless hard-edged beams and energizing aerial effects accentuated by haze or fog. Operating at variable speeds, the trapezoidal 14-position (plus open) color wheel allows for better split colors and seamless transitions. Also featuring variable speeds, the gobo wheel has 17 gobos (plus open) for inspiring effects.
Joining the Q-Series™ of value-priced moving heads, CHAUVET® Professional Q-Wash™ 436Z-LED is a zooming LED wash powered by 36 10-watt quad-colored RGBW LEDs. A versatile zoom of 17 to 39 degrees makes this unit appropriate for a wide variety of applications. Five sections of LED control and built-in color macros deliver stunning eye-candy effects and flicker-free dimming allows for on-camera use.
Two new high-resolution video panels join the VIP™ Series: CHAUVET® Professional PVP™ S5 and PVP™ S7. Built for indoor use and clarity of output, each high-resolution panel uses black face, tri-colored SMD LEDs. This type of LED increases contrast while the tight pixel pitch (PVP™ S5 at 5.2mm and PVP™ S7 at 7.8mm) decreases the viewing distance.
Contact

800.762.1084
E-mail:E-mail: sales@chauvetlighting.com
Web Site: Web Site: www.chauvetpro.com