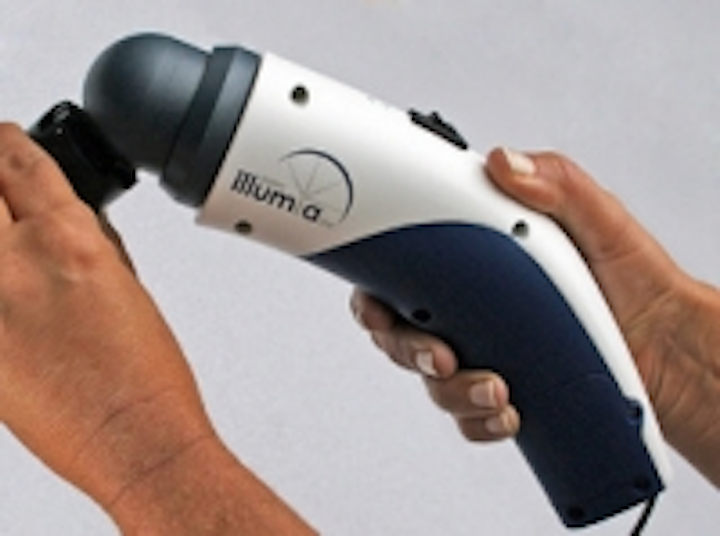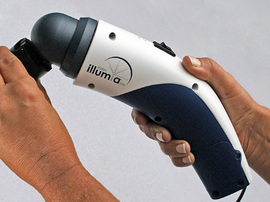 Date Announced: 06 Sep 2012
Sphere-based flux and color measurements with handheld unit
North Sutton, New Hampshire - Labsphere, Inc. has expanded its illumia LED and light measurement product range with the introduction of illumia®lite. The portable system packages the accuracy of sphere-based measurement in a cost-effective handheld device suitable for use on the production floor, in the lab or in the field.
The illumia lite overcomes the drawbacks inherent in other handhelds by incorporating a spectrometer calibrated for absolute spectral flux and employs an integrating sphere in its design. This combination delivers more complete spectral flux measurement capability than simple illuminance meters using near cosine receivers. The ergonomic handheld instrument measures both luminous flux and color of a device under test, including LEDs and other sources up to 1 cm in diameter. A built-in auxiliary lamp provides self-absorption correction for highly accurate results.
The luminous flux range of illumia lite is 0.1 lumens to 5000 lumens, with a wavelength resolution of <5nm and accuracy of <0.5nm. Data is retrieved via USB connection to any laptop or PC and analyzed with Labsphere's easy-to-use MtrX-Spec software. The software calculates all industry standard color parameters such as x, y, CCT, CRI, and lumens, as well as spectral irradiance.
Labsphere, Inc. is headquartered in North Sutton NH with a satellite facility in Shanghai China and a global network of distribution partners. Founded in 1979, it is part of the Halma p.l.c. group of companies. Labsphere specializes in the design and manufacture of high end light measurement solutions for the LED/SSL lighting industry, uniform sources for remote sensing and imager calibration, optical coatings and materials, and instrumentation and reflectance standards for spectroscopy applications.
Contact
Labsphere Inc. 231 Shaker Street North Sutton, NH 03260 Tel: +1 603.927.4266 Fax: +1 603.927.4694
E-mail:labsphere@labsphere.com
Web Site:www.labsphere.com