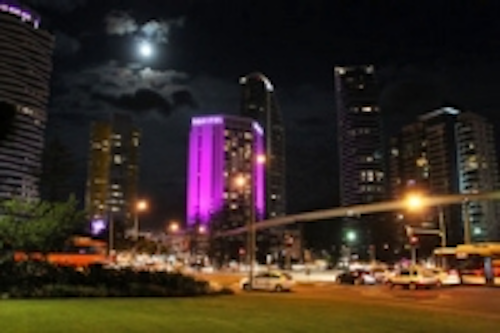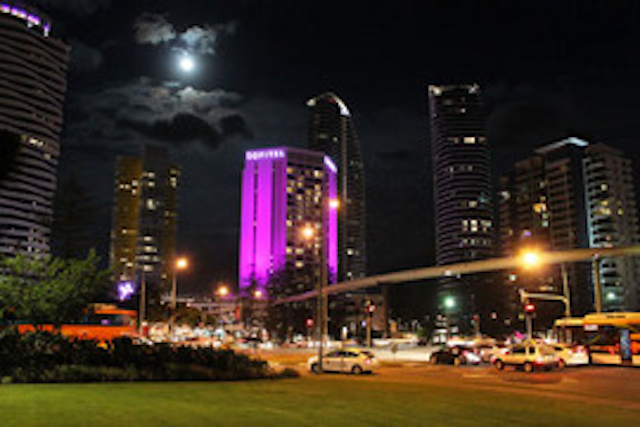 Date Announced: 12 Sep 2012
Anolis ArcPad Xtreme LED floods have been specified for a high impact lighting installation illuminating the exterior of the Sofitel Hotel, Gold Coast Broadbeach, Australia. Sofitel is the premium brand properties of international hotel conglomerate, Accor.
It takes just two of the new Anolis RGBW ArcPad Extremes - such is their power and intensity - to fill the full 23 storey high front walls of the hotel with a beautifully smooth, even wash of vivid colour.
The ArcPads replace four previous 1000 Watt discharge lightsources, bringing a fresh visuality to the hotel after dark, which now stands out like a beacon from the myriad of other tall buildings dotting the famous skyline.
For all this illumination, the power consumed by the ArcPads is a mere 580W per fixture at maximum intensity, representing a whopping 11 Amps less – or approximately a 65% reduction – across the whole installation!
Added to that, the renowned Anolis quality engineering guarantees that the products will be significantly low in maintenance.
One ArcPad Xtreme is positioned on a lower roof on the south side of the hotel and the other on a pole on the north side of the building.
The hotel's chief engineer Alan Wallbanks approached Anolis distributors ULA seeking a more eco-friendly solution to bring the hotel alive at night and differential it from all the surrounding skyscrapers. They are also in the process of implementing an energy and maintenance reduction programme across the entire Sofitel resort.
Sales manager Blair Terrace co-ordinated the sale which started with a number of onsite demonstrations.
The hotel looked at other brands and products for the project, but Anolis was chosen for its intensity and the vibrancy of the colours.
The ArcPad Xtreme has been specifically designed by the Anolis team for large area exterior installations like this. It has two independent LED modules densely populated with emitters that produce the mega-bright output, and is IP67 rated, so perfect for outdoors.
The RGBW LED combination produces a quality 'proper' white in addition to the dynamic palette of colours ranging from rich saturates to delicate pastels, while the homogenised light engine ensures a smooth even coverage across the surface with no blockiness.
ULA also supplied a wall-mounted DMX keypad controller, programmed to switch on at dusk. This also enables hotel staff to quickly and easily change colours and states as required for special events and functions.
Contact
Louise Stickland +44 (0)1865 202679 +44 (0)7831 329888
E-mail:louise@loosplat.com
Web Site:www.anolis.eu