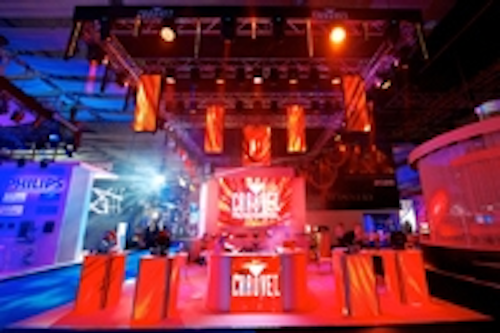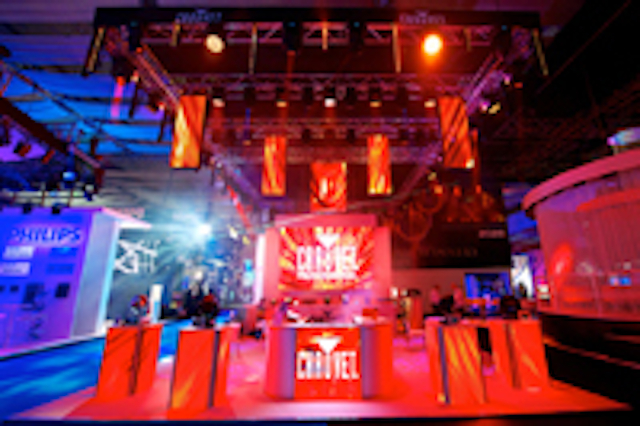 Date Announced: 27 Sep 2012
SUNRISE, Fla. — CHAUVET®, a leading manufacturer of professional lighting, showed new fixtures at PLASA 2012 and introduced its line of architainment interior and exterior lighting solutions ILUMINARC®. CHAUVET® Professional showcased Ovation™, a new line of theatrical fixtures, Legend™ 230SR Beam compact and bright moving spot, Q-Wash™ 436Z-LED powerful zooming LED wash, COLORdash™ Par Quad-18 and COLORdash™ Par Quad-7 LED PAR-style fixtures, COLORdash™ Batten Quad-6 linear light and COLORado™ Deco Quad-1 Tour accent fixture, all of which are soon to be available. Our captivating stand featured a lighting design created by Knight of Illumination award nominee Tom Sutherland, and the CHAUVET® Professional team hosted a panel discussion on LED lighting with Richard Pilbrow, Rick Fisher, Fred Foster and Jeremy Hoare. Additionally, CHAUVET® was one of the sponsors for the fifth annual Knight of Illumination Awards, organized by STLD, ALD.
Ovation™ F-165WW is the first Fresnel-style fixture in the new Ovation™ line. Powered by 16 10W LEDs, Ovation™ F-165WW delivers over 1,500 lux at 5m (13 degrees) without a significant temperature-related drop off. The fixture has an easily adjustable motorized zoom and barn doors to aid in glare reduction and beam shaping. Powered by 19 10W LEDs, Ovation™ E-190WW—styled after the ellipsoidal spot fixtures—delivers over 2,600 lux at 5m. Both fixtures feature a color temperature of 3100K, a beautiful flat field and selectable dimming curves, blending easily into existing systems. Ovation™ E-190WW also has standard beam shaping shutters, a gobo/effect slot and lens barrels that are interchangeable with other ERS fixtures.
Legend™ 230SR Beam is a compact, lightweight, intensely bright moving head beam luminaire, built for touring, live events, television sets or clubs. Legend™ 230SR Beam has a tight 2.25-degree beam angle and houses an Osram Sirius 230-watt lamp, which makes this fixture strikingly bright at 96,000 lux at 15 meters. The incorporated high-quality glass optics and eight-facet rotating prism with zoom capabilities and motorized focus contribute to flawless hard-edged beams and energizing aerial effects accentuated by haze or fog. Operating at variable speeds, the trapezoidal 14-position (plus open) color wheel allows for better split colors and seamless transitions. Also featuring variable speeds, the gobo wheel has 17 gobos for inspiring effects. Designed to perform quietly, Legend™ 230SR Beam is ideal for any environment.
Q-Wash™ 436Z-LED is a zooming LED wash powered by 36 10W quad-colored RGBW LEDs. A versatile zoom of 17 to 39 degrees makes this unit appropriate for a wide variety of applications. Five sections of LED control and built-in color macros deliver stunning eye-candy effects and flicker-free dimming allows for on-camera use.
COLORdash™ Par Quad-18 and COLORdash™ Par Quad-7 are LED PAR-style fixtures, compact, durable and convenient to install. COLORdash™ Par Quad-18 has 18 quad-colored RGBA LEDs, while COLORdash™ Par Quad-7 has seven quad-colored RGBA LEDs. Amber LEDs not only produce any variation of white, but also create stunning saturated colors. Both lights have a split yoke that eliminates the need for floor stands and feature 3- and 5-pin DMX connections, a locking IEC power input and Edison power linking.
COLORdash™ Batten Quad-6 is fitted with six quad-colored RGBA LEDs housed in a durable, linear-style fixture. The included hanging bracket and floor trunnions make setup quick and easy. Capable of individual pixel control, the fixture's LEDs are properly spaced to maintain even pixel pitch when fixtures are lined up end-to-end or stacked in an array.
COLORado™ Deco Quad-1 Tour loads a single powerful 10-watt quad-colored RGBW LED into a compact and robust housing. The incorporation of white in the quad-colored LED provides a truer white spectrum and an overall boost in color output for more subtle pastels and higher CRI. This fixture is perfect for warming narrow gauge truss, or accenting plants and architectural features.
Contact
800.762.1084
E-mail:sales@chauvetlighting.com
Web Site:www.chauvetpro.com