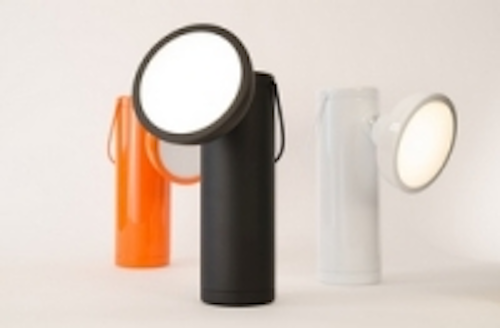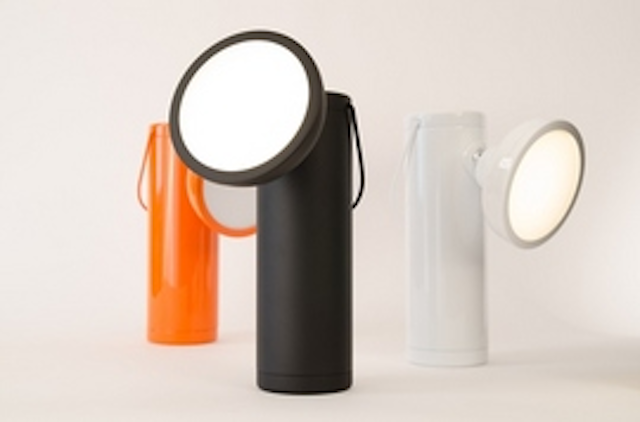 Date Announced: 27 Sep 2012
NEW YORK, Sept. 27, 2012 — /PRNewswire/ -- Autumn has arrived, bringing with it fewer and fewer hours of daylight. Just in time for daylight savings time, new design and manufacturing company Juniper announces the launch of its Wireless M Lamp, a simple yet beautiful light source that will allow people to enjoy their home and work environments in spite of the darkness outside.
Powered by an internal Lithium iron phosphate battery, the M Lamp can be wirelessly transported anywhere within the home, office and in between. According to head development engineer Jon Godston at Geochord, "The M Lamp has been 18 months in the making, but the technology for such a product is finally ready. We feel confident that the M Lamp will herald the future trend in lighting.
"The M Lamp, which stands at 9 inches (23 cm), projects up to 3,000 lux of warm light from its adjustable head. In its standard mode, its dimmable LED will emit 1,000 lux for more than 8 hours on a single charge – providing suitable brightness for late-night work or for reading in bed.In case of a power outage, the M Lamp will automatically illuminate at full power, making it a useful companion in times of need, particularly during hurricane season. Water resistant at IP 64, the M Lamp is designed for safe temporary outdoor use where power outlets are not available.
The M Lamp debuts Juniper's collection of lighting and furniture in collaboration with emerging British designer David Irwin. Inspired by the archetypal miner's lamps of 19th century North East England, Irwin set out to create a contemporary play on the aesthetics and function of these historical icons - referencing the Geordie, Davy and Carbide lamps.Environmentally friendly, the M Lamp's LED is rated to last 50,000 hours, while its iron phosphate battery can safely run 2,000 charging cycles with no loss in performance, guaranteeing that owners will enjoy the M Lamp for many years to come. Equally important, it can be entirely disassembled and almost completely recycled.The M Lamp is made primarily of high-grade aluminum and metal components. It currently comes in three colors: Matte Black, Gloss White and Vibrant Orange. An M Lamp+ is available with a longer battery life and customized charging base. The M Lamp and M Lamp+ are expected to retail at $USD 220 and $USD 260 respectively. The M Lamp is engineered and manufactured in the USA. The Wireless M Lamp made its online debut on Kickstarter on Thursday, September 13.
Designed by David Irwin for Brooklyn-based manufacturer Juniper, the M Lamp is featured for 35 days on the popular crowd funding website with the goal of raising $60,000 to fund final production costs. The Kickstarter launch coincided with the lamp's physical debut at 100% Design London, September 19-23. The M Lamp was developed in collaboration with Geochord from Chicago and electrical engineer, Mike Garner.
About David Irwin
David Irwin is an award-winning industrial designer based in Newcastle upon Tyne, working within the spectrums of furniture, interior product and lighting. The goal with all his work is to combine a strong concept with a fundamental usefulness.About Juniper Juniper is a Brooklyn-based design and manufacturing company founded in 2011. Its line of life and work solutions strives for simplicity and naturalism in its form and function, with durability and adaptability at the root of their products, akin to the Juniper tree that is their namesake.
For further information on the M Lamp, Juniper or for sales and media enquiries, please contact Shant Madjarian at shant@juniper-design.com or +1 347 799 2915.Juniper 360 Smith Street, Suite 5A Brooklyn, New York, 11231 United States +1 347 799 2915 info@juniper-design.com www.juniper-design.com
David Irwin Studio 5th Floor, Tru Knit House 9-11 Carliol Square Newcastle upon Tyne United Kingdom, NE1 6UF +44 (0) 191 645 2262 +44 (0) 7749 328 716 info@davidirwin.co www.davidirwin.com
Contact
Shant Madjarian at shant@juniper-design.com or +1 347 799 2915.Juniper 360 Smith Street, Suite 5A Brooklyn, New York, 11231 United States +1 347 799 2915
E-mail:info@juniper-design.com
Web Site:www.juniper-design.com