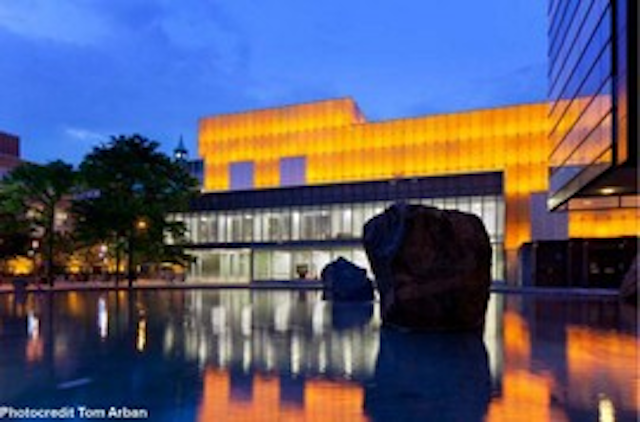 Date Announced: 04 Sep 2012
The recently made over Ryerson Image Centre has won the 9th Annual 2012 Architectural Lighting Magazine's Light & Architecture Design Award for Best Use of Colour. Ryerson University is one of Canada's leading universities focused on applied, career-oriented education. Located in downtown Toronto, Canada, its campus surrounds the busy Yonge-Dundas Square. Under the guidance of Diamond + Schmitt Architects, the university's School of Image Arts underwent a $30 million 21st century makeover with an exterior frosted glass covering backed by hundreds of GVA Lighting's LED lights.
This much anticipated active LED facade was designed to engage passing by students and pedestrians in a vibrant expression of colour. The project was specified by Rutenberg Sales with lighting design by Ion Luh of Crossey Engineering. The previous mundane yellow brick school is unrecognizable after this outstanding renovation. The building provides the perfect backdrop to one of Toronto's beloved landmarks, a unique ice rink at Gould and Victoria Street.
"This achievement 'shines the light' on Toronto, Ontario and Canada in an exceptional way", said Ryerson University President Sheldon Levy. "We look forward to welcoming researchers from around the world, students, artists and members of the community to our campus, and invite everyone to be part of this wonderful phenomenon".
760 custom STR9®-RGBs were used and programmed to transform the building into an art medium in its own right. The luminaires were installed behind translucent glass coverings facing towards a white wall to allow for even illumination of the facade. The lighting system can be programmed to create light displays in a variety of colours and includes a special web app that enables students to interact with the building and create their own custom light shows. Students can be seen with their smart phones or tablets on the corner of Gould and Victoria putting the new display wall through its paces, with the apps ability to choose custom colours and display touch screen hand gestures.
GVA Lighting's STR9®-RBG were ideal for the job, as the high power colour changing LED luminaires are designed for wall washing and wall grazing. The STR9®-RGB is capable of producing millions of tones and is addressable in 300mm segments using DMX512-A programming. This allows for virtually limitless dynamic effects, including lighting up in the University's signature blue and gold.
The STR9®-RGB installed with a clean and modern look that complemented the school's newly renovated architecture and its compact size makes it virtually invisible on any structure after installation. GVA's proprietary sealing process makes the STR9®-RGB totally weatherproof and it is IP66 rated. The proven thermal design of the luminaire is effective in hot and humid weather as well as cold Canadian winters.
The STR9-RGB LED luminaire offers an innovative approach to color changing illumination for both indoor and outdoor applications as demonstrated at Ryerson University's School of Image Arts. For more pictures of this product and information on GVA Lighting, please visit the website.
Contact
Contact Information: Stephanie Hecimovich Marketing GVA Lighting, Inc. Tel. 1+905-569-6044 Fax: + 1 905 569 9823 Email: marketing@gvalighting.com
E-mail:marketing@gvalighting.com
Web Site:www.gvalighting.com