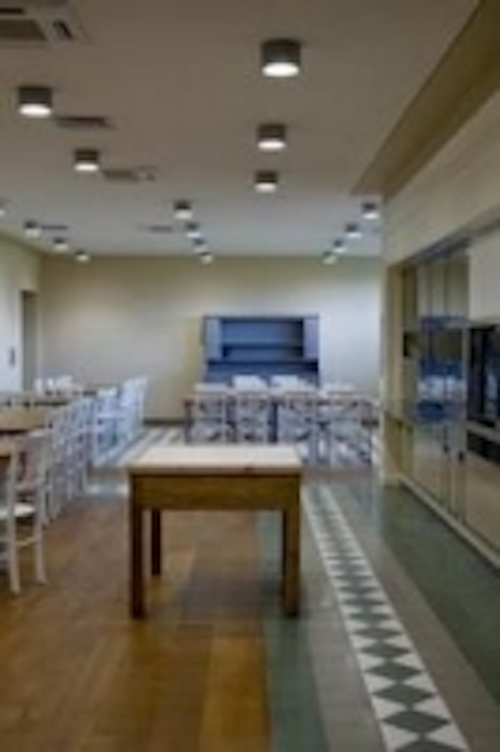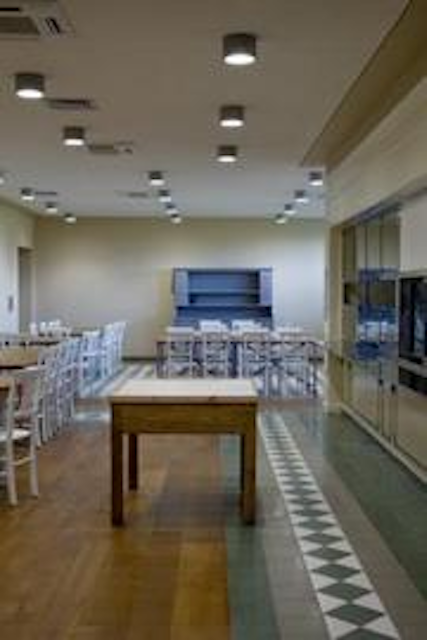 Date Announced: 05 Sep 2012
Dornbirn - The new canteen at the Donati factory in the north Italian town of Rodengo Saiano is a cosy friendly place. The interior décor has a traditional regional feel , beautifully lit by modern LED light. TALEXXmodule SPOT LED modules from Tridonic create ideal conditions with impressively low energy consumption.
With warm wood and a contrasting pattern of tiles on the floor, cream coloured walls and rustic furniture the atmosphere in the new canteen puts people in the right mood to enjoy the delights of Italian cuisine. In addition to paying homage to the Lombardy home of the company, the canteen also alludes to the skills of the Donati Group. As a highly specialised supplier of metal components, the Donati Group develops and manufactures products for a wide range of industries.
The factory in Rodengo Saisano is an important partner for the international office furniture sector. This is where components and mechanisms for office chairs are designed and then manufactured on special machinery comprising cutting, moulding and stamping tools. The main material used for these products is aluminium, so this is also a material that is widely used in the canteen. The cylindrical surface-mounted ceiling luminaires that illuminate the dining area, for example, are made from this lightweight and durable material. This indirect reference to the office furniture products is further strengthened by a direct reference, in that the luminaires themselves were designed and manufactured by the Lighting Division within the Donati Group, under the corporate name of Platek light srl.
An LED system comprising a module and converter give luminaire designers enormous freedom
When they were looking for the ideal light source for their special "Circus" luminaires, the Platek engineers opted for a Tridonic LED system consisting of an LED module and a converter. Tridonic developed the TALEXXmodule SPOT series specifically for use in downlights and spotlights. Despite its compact form factor of only 36 mm x 33 mm, the LED module accommodates twelve high-power chip-on-board LEDs. The result is a light source with uniform emission and a 140° beam angle that can be integrated very successfully in reflector luminaires. Depending on the colour temperature (a choice of 3000 K, 3500 K, 4000 K or 5000 K), a TALEXXmodule SPOT unit provides a typical luminous flux of up to 1120 lm from an operating current of 350 mA.
Tridonic has a systematically designed system including module and converter to make it easier to integrate connection-ready LED modules in different luminaire designs.
High energy savings and low maintenance
The "Circus" luminaires for the Donati canteen are fitted with TALEXXmodule SPOT units with a colour temperature of 4000 K and a luminous flux of 1000 lm. The luminaires have an efficiency of almost 77% which means that only 27 are needed to provide adequate horizontal and vertical illuminance for the 110 m2 floor area of the canteen. To give the room added interest, the "Circus" luminaires around the edges of the canteen provide a subtle wall-washing effect.
But this solution does more than just reliably meet all the functional requirements. The LED system from Tridonic also provides the basis for particularly efficient lighting. In all, the lighting for this large room needs only 351 W (3.18 W/m2). For this operator this translates into significant energy savings and lower operating costs. These positive effects are reinforced by the long life of the LED light sources. Thee is no need for frequent relamping in the Donati canteen, as was the case with conventional light sources.
About Tridonic
Tridonic, headquartered in Dornbirn/Austria, develops, manufactures and markets equipment for a wide range of light sources, lighting management systems, LED solutions and connectors. Through its active partnership, outstanding service competence and technical expertise Tridonic enables its customers to implement lighting solutions of superior functionality and economy.
Tridonic is a subsidiary of the Zumtobel Group. In the 2011/12 fiscal year, 2000 employees in 30 locations achieved sales of 408 million euros. More than 250 development engineers create intelligent lighting concepts based on sophisticated systems and products. More than 570 inventions and over 2000 patents are ample evidence of the powers of innovation of Tridonic. Customers include luminaire manufacturers, manufacturers of products that incorporate lighting, architects, electrical system designers, lighting planners, electrical contractors and wholesalers.
The history of Tridonic stretches back more than 60 years and is a success story with many highs. Today, true to its slogan "enlightening your ideas", Tridonic is synonymous with outstanding products and services related to the fascinating subject of light.
For more information go to www.tridonic.com.
Contact
Markus Rademacher Tridonic GmbH & Co KG Phone: +43 5572 395 - 45236
E-mail:markus.rademacher@tridonic.com
Web Site:www.tridonic.com