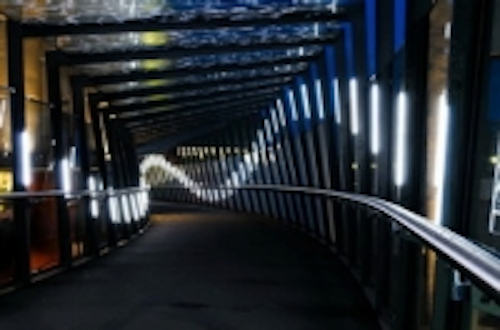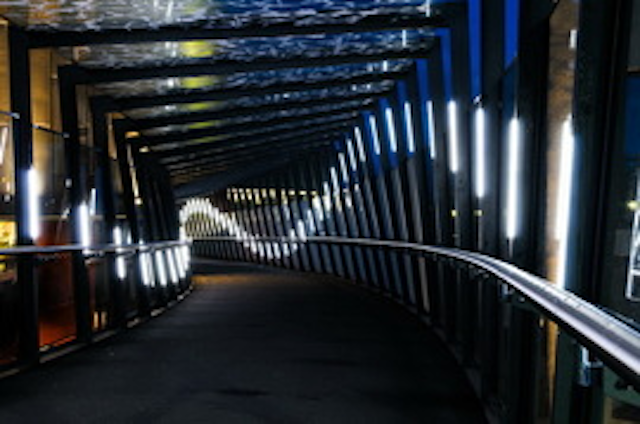 Date Announced: 17 Sep 2012
Undulating waves of Plexineon lighting, supplied by Light Projects, now welcome visitors to the Cabot Circus shopping centre in Bristol. This creative, exciting and innovative scheme has been installed along the main walkway joining the car park to the shopping experience. It was conceived by lighting designers Pinniger and Partners in conjunction with Hoare Lea Bristol.
The choice of Plexineon highlights some of the many advantages that this product offers over traditional neon lighting. Comprising a solid plastic waveguide which encapsulates the LEDs, the lighting emits a strong, bright, uniform glow along its entire length.
Importantly, it has the advantage of greatly reduced maintenance and running costs. In addition, it is far more resilient than traditional neon, being shatterproof and extremely durable and has an IP rating of 66.
Plexineon runs at a very cool temperature allowing it to be sited near flammable materials or within touching distance. It is also available pre-formed allowing it to be moulded to most practical shapes.
The range is available in the six vibrant colours of blue, teal, green, amber, orange and red as well as three temperatures of white. Standards lengths range from 600mm up to 2400mm with cuttable lengths available to order.
Contact
Technical literature about the Plexineon range is available from Light Projects Group (tel: 020 7231 8282)
E-mail:sales@lightprojects.co.uk
Web Site:www.lightprojects.co.uk