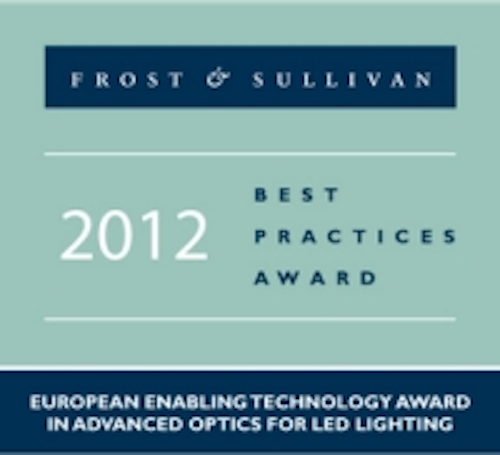 Date Announced: 18 Sep 2012
"Its Printoptical technology has the potential to become a standard in the near future"
LONDON – Based on its recent research on the advanced optics market for LED lighting, Frost & Sullivan presents LUXeXceL Group B.V (LUXeXceL) with the 2012 European Frost & Sullivan Enabling Technology Award for its Printoptical Technology. LUXeXceL's pioneering manufacturing process addresses the key challenges to large scale adoption of LEDs in general lighting.
Currently, the majority of the LED chips are designed to deliver maximum light output and changing LED chips usually means changing secondary optics designs as well. Changing designs means stock is wasted, leading to huge losses. Further, injection moulding, which is the conventional technology employed for manufacturing LED optics is a time-consuming and expensive process. This delays the development and introduction of new LED lighting devices.
"Although LED for lighting applications is quite promising, the lengthy and expensive manufacturing processes and lack of industry standard have been the major challenges faced by system integrators in developing secondary optics needed for most LED lighting fixtures or luminaires," said Frost & Sullivan Research Analyst Shyam Krishnan. "LUXeXceL's innovative Printoptical technology prints optics directly from CAD files, reducing the manufacturing time and making the process simpler and less expensive by eliminating the need for expensive tools, moulds or dies."
LUXeXceL allows customers to provide CAD files of the designs, which are directly printed in optics using a proprietary form of 3D printing. This removes the need for moulds, intermediate steps, and post-processing. Further, the Printoptical manufacturing process can print one optic or 10,000 – the customer only needs to order what they need. The reduction in the time taken to manufacture the optics, minimizes time-to-market and helps the manufacturer to better cater to customer demands.
Therefore, LUXeXceL's technology provides the system integrator the flexibility to manufacture the desired volume, preventing wastage of the manufactured product. The system integrator also has the advantage of changing the LED chip manufacturer, depending upon the market trends, as there is no need for stocking optics. In addition, variations of an optic design for an existing fixture can easily, quickly and economically be made to serve custom lighting opportunities.
Further, the smoothness achievable in mould-making through subtractive machining is inherently afflicted by tool marks and abrasions and can never match the perfect smoothness formed by surface tension using the Printoptical process. The lack of flexibility in designing variety of textures and colours is another disadvantage of injection moulding that LUXeXceL has overcome.
"The outstanding benefits Printoptical offers is expected to obliterate the hesitancy LED system manufacturers have been showing in introducing newer products with different optic designs," noted Krishnan. "Using LUXeXceL's technology, the customer can manufacture optics like Fresnel lenses as well as free-form lenses, prisms, micro-structures, and optical laminates, and complex designs with complete colour graphics and textured surfaces, bringing LED out of its niche bracket for wider applications."
While LED lighting is the initial target market for LUXeXceL's Printoptical technology, the company has also started to focus on advertising graphics, digital arts, and manufacturing needs of various industries. Printoptical is based on the wide-format industrial inkjet printing equipment, which enables printing of very complex designs that is simply not possible – or is overly expensive – with other manufacturing processes. LUXeXceL also plans to establish relationships with solar and construction industry manufacturers. Optical structures printed by using Printoptical technology have the potential to enhance the conversion of solar energy into electrical light, so the efficiency of the photovoltaic cell can be improved.
"When compared to its competitors, LUXeXceL's technology provides its customers with quality LED product at a lower overall cost and reduced time-to-market," summarised Krishnan. "These factors have enabled LUXeXceL to position itself as a potential major LED optics manufacturer for the majority of LED system integrators in the industry."
In recognition, Frost & Sullivan is pleased to present LUXeXceL with the 2012 Enabling Technology Award in the advanced optics market for LED lighting. Each year, Frost & Sullivan presents this award to a company that has developed a pioneering technology that not only enhances current products but also enables the development of newer products and applications. The award recognizes the high market acceptance potential of the recipient's technology.
Frost & Sullivan's Best Practices Awards recognize companies in a variety of regional and global markets for demonstrating outstanding achievement and superior performance in areas such as leadership, technological innovation, customer service, and strategic product development. Industry analysts compare market participants and measure performance through in-depth interviews, analysis, and extensive secondary research in order to identify best practices in the industry.
About LUXeXceL Group
LUXeXceL Group BV, is the inventor and exclusive provider of Printoptical fabrication services, the new digital 3D printing technology which enables prototyping and manufacture of plastic optics for the lighting industry and other applications. LUXeXceL is headquartered in Goes, Netherlands. For more information, please visit www.luxexcel.com , email info@luxexcel.com or call + 31 (0)113 224400.
About Frost & Sullivan
Frost & Sullivan, the Growth Partnership Company, works in collaboration with clients to leverage visionary innovation that addresses the global challenges and related growth opportunities that will make or break today's market participants.
Contact
Catherine Brassell Best Practices – Frost & Sullivan +44 207 915 6767
E-mail:info@luxexcel.com
Web Site:www.luxexcel.com