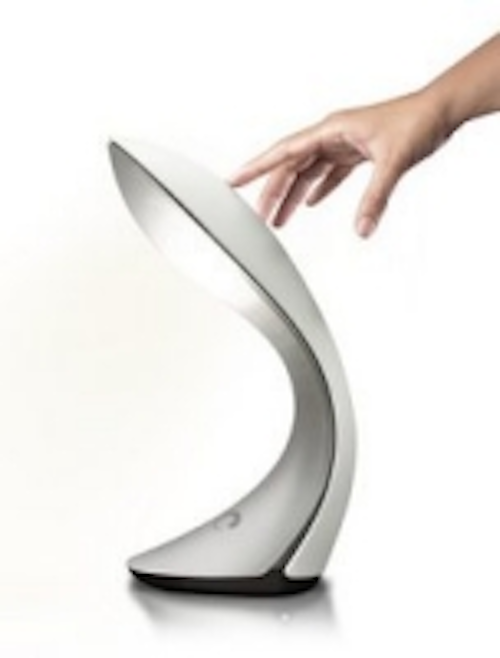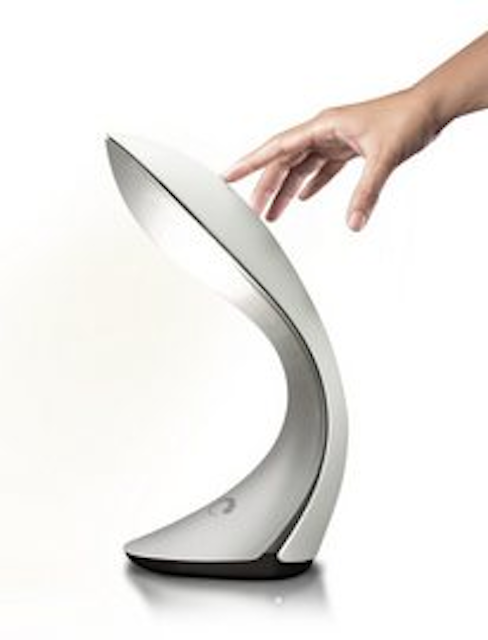 Date Announced: 24 Sep 2012
When Fonckel B.V., a start-up company based in the Netherlands, needed expert assistance to turn the stunning design of its Fonckel One lamp – an interactive light emitting diode (LED) luminaire – into a commercial product, SABIC's Innovative Plastics business was there to deliver its world-class customer support. With its robust portfolio of advanced thermoplastics for lighting applications, its Color Innovation Centre offering more than 18,000 color and diffusion effect options, and its application development expertise, SABIC assisted Fonckel with tapping the proven performance and versatility of LEXAN™ FXD polycarbonate (PC) resin for use on the lamp's diffuser cover. On display here at the Strategies in Light Show at SABIC booth #B8, this unique luminaire, the name which means "sparkle" in Dutch, demonstrates SABIC's ability to precisely meet the specialized needs of its customers by helping them translate their design vision into the right material application.
Through SABIC's distribution partner in the Benelux, UltraPolymers, Fonckel approached SABIC to find a high-quality material offering white colors for the diffuser cover that also met the strict requirements for custom effects, suitability for laser welding and exceptional optical and mechanical performance. The key goals were to achieve desired light transmission combined with homogeneous diffusion properties to mask more than thirty LED bulbs used in the luminaire, and to allow an organically shaped design.
"Fonckel One's innovative lighting concept requires materials that meet very specific optical, mechanical, aesthetic and safety requirements," said Philip Ross, design director, Fonckel B.V. "After a long search, SABIC's impressive expertise and choice of materials brought us the solution for our most critical optical material."
"SABIC is always ready to serve our customers, whether they are young companies or well-established enterprises, with a total solutions offering that includes color, design and development services and technical expertise," said Eric Hogenboom, general manager, performance business in Europe, Innovative Plastics. "It's very exciting and rewarding for our teams to be involved at the outset of a project to co-develop successful lighting products like the Fonckel One. Our overriding goal, no matter the company's size, is to help customers succeed in this competitive and rapidly evolving market space wherever we can."
Putting Users in Touch with Light
Fonckel B.V. develops intuitively controlled lamps on the basis of patented interaction technology called lumotion®. The Fonckel One, an interactive designer lamp developed and produced exclusively in the Netherlands, is easily and intuitively controlled and offers maximum flexibility in the user's relationship with light. The direction, intensity and breadth of the bundle of rays are regulated by simple movements on the touch-sensitive frame, similar to those used on tablets and smartphones, enabling the user to adjust them as needed. Fonckel One will be available for sale in Europe in October. For more information on Fonckel B.V. or the Fonckel One lamp please visit their website at www.fonckel.com.
SABIC's Color Innovation Centre played a major role in the development of the Fonckel One diffuser cover. The facility in Bergen op Zoom, whose staff comprises more than 30 years of expertise in color and effects technology, also offers more than 18,000 different color and effect choices. SABIC Color Innovation Centres around the world provide rapid response: on-site colorists help customers create custom colors and apply special effects in as little as a day. For additional information on SABIC Color Innovation Centres around the world, please go to www.sabic-ip.com.
Equally important to this project was the high-performance of LEXAN FXD resin. This transparent/translucent low-viscosity grade for light diffusion special effects enables laser welding, which is used to join the diffuser cover and the back cover of the luminaire. This quality of LEXAN FXD resin is important as laser welding is becoming increasingly popular for lighting applications.
About SABIC
Saudi Basic Industries Corporation (SABIC) ranks among the world's top petrochemical companies. The company is among the world's market leaders in the production of polyethylene, polypropylene and other advanced thermoplastics, glycols, methanol and fertilizers.
SABIC recorded a net profit of SR 29.24 billion (US$ 7.80 billion) in 2011. Sales revenues for 2011 totaled SR 189.90 billion (US$ 50.64 billion). Total assets stood at SR 332.78 billion (US$ 88.74 billion) at the end of 2011.
SABIC's businesses are grouped into Chemicals, Polymers, Performance Chemicals, Fertilizers, Metals and Innovative Plastics. SABIC has significant research resources with 16 dedicated Technology & Innovation facilities in Saudi Arabia, the USA, the Netherlands, Spain, Japan, India and South Korea. The company operates in more than 40 countries across the world with around 40,000 employees worldwide.
SABIC manufactures on a global scale in Saudi Arabia, the Americas, Europe and Asia Pacific.
Headquartered in Riyadh, SABIC was founded in 1976 when the Saudi Arabian Government decided to use the hydrocarbon gases associated with its oil production as the principal feedstock for production of chemicals, polymers and fertilizers. The Saudi Arabian Government owns 70 percent of SABIC shares with the remaining 30 percent held by private investors in Saudi Arabia and other Gulf Cooperation Council countries.
About Innovative Plastics
SABIC's Innovative Plastics business is a leading, global supplier of engineering thermoplastics with an 80-year history of breakthrough solutions that solve its customers' most pressing challenges. Today, Innovative Plastics is a multi-billion-dollar company with operations in more than 35 countries and approximately 9,000 employees worldwide. The company continues to lead the plastics industry with customer collaboration and continued investments in new polymer technologies, global application development, process technologies, and environmentally responsible solutions that serve diverse markets such as automotive, electronics, building & construction, transportation, and healthcare. The company's extensive product portfolio includes thermoplastic resins, coatings, specialty compounds, film, and sheet. Innovative Plastics (www.sabic-ip.com) is a wholly owned subsidiary of Saudi Basic Industries Corporation (SABIC).
Contact
Aline Stanworth Bergen op Zoom, The Netherlands Tel: +31 164 29 2217
E-mail:aline.stanworth@sabic-ip.com
Web Site:www.sabic-ip.com