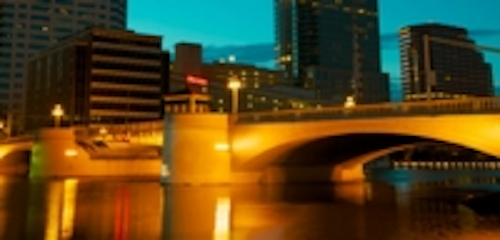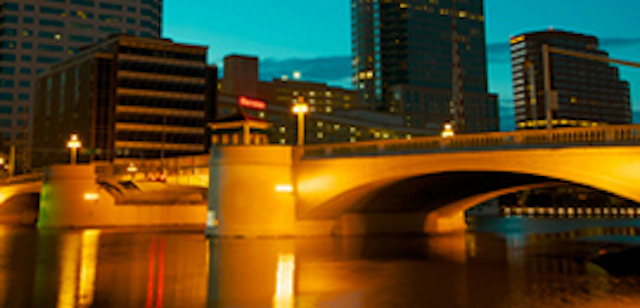 Date Announced: 05 Sep 2012
TAMPA, Fla. – Over 100 ILUMINARC® exterior lighting solutions permanently light five landmark bridges over downtown Tampa's Hillsborough River. The project entitled "Agua Luces," or "Water Lights," is part of the Lights On Tampa arts initiative, a joint public and private partnership between the City of Tampa's Arts Division and Friends of Tampa Public Art.
A few years in the making, the Agua Luces project complements The Tampa Riverwalk expansion with a paved walkway on the eastern side of the river that highlights specific vistas of the city, river and newly lit bridges. Designing the lighting aspect of Agua Luces is Tracey Dear of Chicago-based Dear Productions. Dear, known for illuminating Chicago's bridges, specified the outdoor-rated, LED-fitted ILUMINARC® fixtures in his design, which also allows the colors to change throughout the night, every night.
"The water plays such a large role in Tampa's appearance," said Dear. "My first impression was how beautiful the city looked from the water. I have never underestimated the appeal of water to the human psyche. Add the element of light and you have a powerful mix."
Led by Mayor Buckhorn, TECO's Tampa Electric Company and Peoples Gas, and the Lights On Tampa committee, the goal of the Agua Luces project is to light all nine bridges by 2014. As of Aug. 10, 2012, five are now permanently illuminated. The five bridges are Platt Street Bridge, Brorein Street Bridge, Tampa-Hillsborough Expressway Authority overpass, Kennedy Boulevard Bridge, and the CSX Railroad Bridge.
"Each bridge is unique and I wanted to give them their own personality," said Dear, "while unifying them as one family of bridges surrounding downtown Tampa. Much like currents of water, the bridges will constantly change color and appearance. This magic of changing light reflects in the Hillsborough River, adding to the overall view of the city."
Four of the five bridges utilize 90 ILUMINARC® Ilumipanel 40 IP exterior lighting solutions. The fifth, Tampa-Hillsborough Expressway Authority overpass, uses ILUMINARC® Ilumipanel 90 IP exterior lighting solutions and six ILUMINARC® Ilumiline 36 IP linear wash lights. All five bridges create colorful archways for the active waterway and add dramatic flair to the city's skyline.
"The Ilumipanel 40 IP fixture is a bright little fixture with a manageable design that's not to alien to electrical contractors," said Dear. "It has really great output with a slim design and blends in to the environment well. I really like it and will use it again." The city held a lighting ceremony on August 10, 2012, at Curtis Hixon Waterfront Park in downtown Tampa, where the mayor spoke to the gathered crowd before illuminating the bridges.
"We are going to make Tampa proud and we are going to shine," said Mayor Buckhorn. "Ladies and gentlemen, these lights are going to light the path to Tampa, Florida, for the world. We're going to shine like we've never shined before. We're going to tell Tampa's story like it's never been told before. Tampa, Florida, these lights are for you. Forever."
Contact
ILUMINARC®
E-mail:info@iluminarc.com
Web Site:www.iluminarc.com