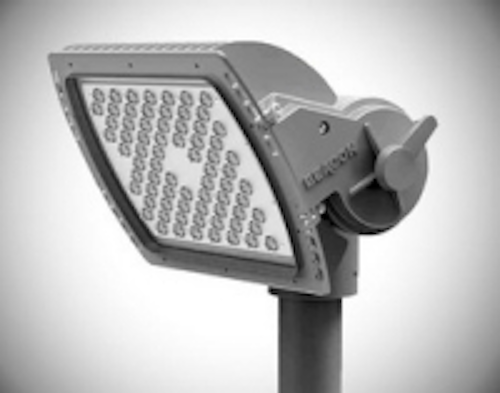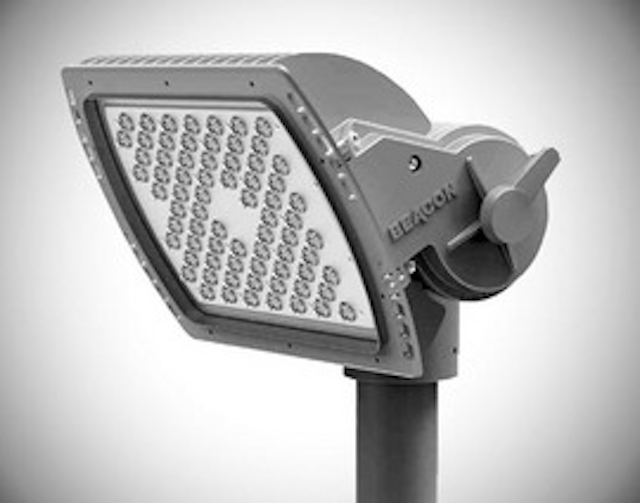 Date Announced: 05 Nov 2012
New Product Introduction: Alpha — state-of-the-art outdoor area and building LED floodlight. Alpha combines high-performance lighting with long operating economy and negligible maintenance.
Product Design: Beacon Products In-House Product Development and Engineering Team.
Manufacturer: Beacon Products, founded 1978, a division of Hubbell Lighting, Inc.
Product Applications: Alpha is an extremely energy-conserving, low maintenance all-climate compact LED outdoor luminaire. Pole-, surface- or ground-mounted, Alpha projects crisp, white, high-color-rendition light onto buildings and other structures, onto parking areas, signage and landscape features. It minimizes light trespass, spillover and wasted light, making it an ideal solution for lighting commercial and municipal facilities in urban, recreational settings and large areas of ground.
Product Description: Alpha is a square design, with a full-coverage clear acrylic lens over square, diamond or rectangular-shaped LED array choices. Six standard NEMA beam-spread options place light where it is wanted, specified for aiming below or above horizontal.
Aiming range is 45 degrees down to directly up. Downlight models do not include an acrylic lens and are restricted to aiming below the horizontal. The luminaire conveys a lasting, contemporary, high-tech appearance that bespeaks good design and manufactured quality.
Construction and Finishes: Alpha is die-cast aluminum, fasteners are stainless steel. Cage clamp design with a time-saving push-button terminal block. Powdercoat is standard. Beacote V polyester paint electrostatically applied, thermo-cured, warranted for 5 years; optional 10 years. Alpha is subjected to a unique Beacon 5-step chromium-free pre-treatment by full-immersion process prior to painting.
Alpha employs Lifeshield™ thermal regulation circuitry. LED luminaires may be subjected to excessive operating temperatures. Lifeshield controls driver current to the LEDs and, if necessary, reduces that current via the dimming drivers, ensuring that maximum operating temperature of components is not exceeded.
Ordering Information: Literature, specifications and pricing for Alpha, or any of the wide-ranging outdoor, site and landscape-lighting products within the overall Beacon Products collection, can be obtained by contacting Beacon Products, 2041 58th Avenue Circle East, Bradenton, Florida 34203. Telephone: (941) 755-6694. Fax: (942) 751-5535. E-mail: info@beaconproducts.com. Learn more about Beacon Products by visiting them on the World Wide Web at: www.beaconproducts.com.
Contact
Bill or Nancy Schoenfisch SCHOENFISCH INCORPORATED 336 County Highway 24 Richfield Springs, New York 13439 (315) 858-8393/Phone (315) 858-9635/Fax
E-mail:info@beaconproducts.com
Web Site:www.beaconproducts.com