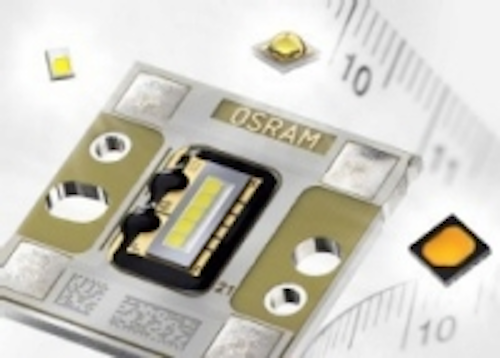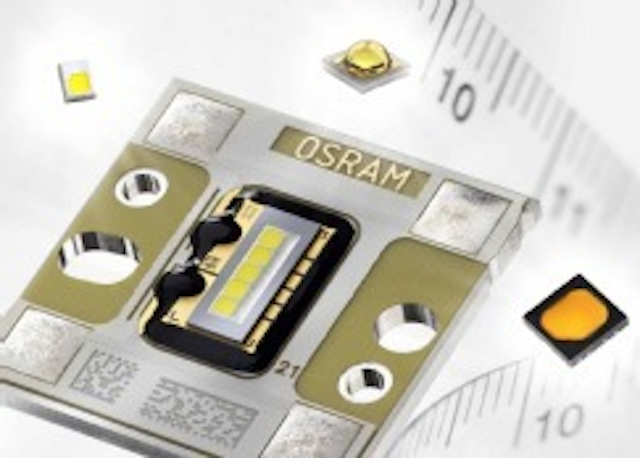 Date Announced: 16 Nov 2012
More and more vehicles with powerful, highly visible and stylish LED headlights are appearing on the roads. LED lighting is no longer exclusively for the flagship model vehicles as mid-range and even compact models are now being equipped with eye-catching LED lighting. On the latest models LED lighting is optional, and on older models there are various creative upgrade options.
Osram Opto Semiconductors is providing a boost to the market with new LED solutions for the automotive sector. The semiconductor specialist has further expanded its portfolio, and for the first time is offering LED solutions for all vehicle classes.
The entire impressive range of LEDs can be seen at electronica (November 13 to 16, Munich) – from the powerful Osram Ostar Headlamp Pro multichip LED and the Oslon Black Flat and Oslon Compact single-chip LEDs to the Oslon LX , " the people's LED" that offers all the essential properties for daytime running and fog lights at the usual high quality but at a lower price.
The star of the show
The Osram Ostar Headlamp Pro is a high-end, high-power light source. It easily achieves the same output as a halogen lamp and is an important milestone up to HID-performance. This compact multichip LED produces so much light from such a small footprint that it is even a great solution for high-beam applications.
Like the Osram Ostar Headlamp it is comprised of up to five closely packed, thin-film chips and is qualified according to Automotive Standard AEC-Q101 and beyond. From an operating current of 1 A, each chip (2- 5) produces 280 lm at room temperature and 250 lm at 100° C. Just a four-chip configuration is sufficient for low beam applications (4 x 280 lm = 1120 lm at room temperature, 4 x 250 lm = 1000 lm, at 100° C).
Thanks to UX:3 chip technology and a new converter, the high-power LEDs achieve high light output even at high currents while distributing the light uniformly and with good contrast. Their typical electrical thermal resistance is only 1.6 K/W (for the 5-chip version). Since any headlamp system has to be designed for high temperatures, the data sheet also contains optically corrected values for the actual thermal resistance that are relevant for system design.
The Osram Ostar Headlamp Pro already meets the color binning requirements of international standard IES PAS 62707-1 Add.1.
See and be seen
In addition to the white, single-chip Oslon Black Flat LED there is also a yellow version now available for use in turn indicators. Both offer high thermal stability thanks to the special chip and package technology (UX:3, special converter). They achieve high light output even at high currents, distribute the light uniformly and have a good contrast ratio.
The white Oslon Black Flat can be used to perform various lighting functions – including low beam, cornering lights and fog lights. With a power draw of 2.3 W and an operating current of 700 mA, it achieves a typical luminous flux of 200 lm (at 25° C). At 1.2 A it produces up to 270 lm at temperatures in the chip of up to 100°C.
The yellow version exhibits its special strengths at high currents, in other words, in normal operation. At an operating current of 700 mA and 25°C in the chip, the typical luminous flux is 110 lm. Even at an operating temperature of 100° it still produces 85% of its initial brightness (95 lm).
Since neither LED version has a lens, their light is ideal for injecting into light guides. They can also be combined in a system as they have identical solder pads – even with other LED types such as the Oslon LX – offering designers enormous freedom.
One for all
Today the most compact, high-power LED for the automotive market is the prototype of the Oslon Compact: The entire LED package is not much larger than the actual light-emitting surface of the chip. It can be freely arranged, leading to countless individual headlamp designs. Light guide solutions and AFS applications (Adaptive Front lighting System) are also possible because the LEDs are so small they can be closely clustered. Their high light output enables them to be used for all forward lighting functions.
Once again, the excellent UX:3 chip technology, combined with an optimised converter, ensures high luminous efficacy at high currents. The prototype measures just 1.5 x 1.9 mm² and produces 200 lm from an operating current of 700 mA. Market launch is planned for the second half of 2013.
The people's LED
Affordable LED solutions for the subcompact class of vehicles are now possible with the Oslon LX LED. The focus here is on the essential functions of brightness and quality. The semiconductor specialist has succeeded in creating an LED solution that is cost effective while still delivering the benefits of the latest chip and package technologies.
The Oslon LX is suitable mainly for daytime running lights and fog lights and will provide visual and technical enhancements to automobiles to include the compact and subcompact segments. If several of these LEDs are combined they can also be used for low-beam and high-beam headlights. At a chip temperature of 25 °C the LED produces 125 lm from an operating current of 350 mA, and 100 lm at 100 °C.
The LED lens has an emission angle of 120 degrees and meets the established standard for reflector solutions in automobiles. This means that the reflector systems used in the compact and subcompact segments can be retained. With package dimensions of 3 x 3 mm² these LEDs are also compact.
The solder pad design is the same as the other Oslon automotive LEDs so there are no barriers to using them together in a design. The Oslon LX rounds out the Oslon family with an attractive product for the lower price segment of the automotive market."
Visit booth 107 in Hall A3 at electronica where you can witness for yourself the LED expertise of Osram Opto Semiconductors.
Contact
Osram
Web Site:www.osram.com