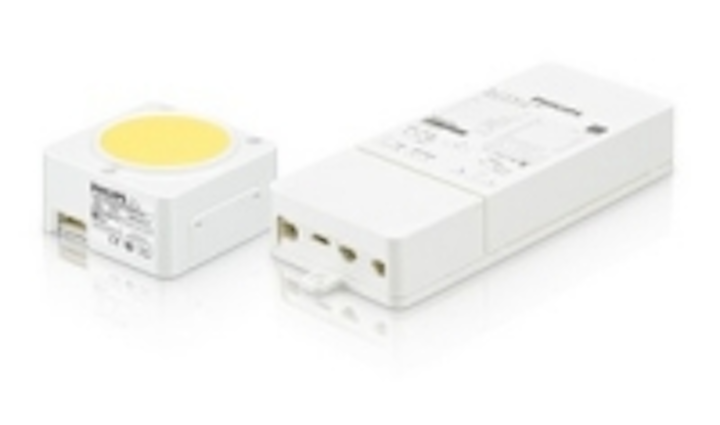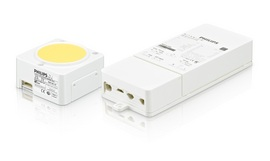 Date Announced: 22 Nov 2012
Philips introduces Fortimo LED downlight system Gen4, the ideal LED system solution for high quality, low glare downlight applications
The new Fortimo LED downlight system (DLM) Gen4 offers a breakthrough in energy efficiency with tremendous benefits in improving the total cost of ownership. It enables more compact cooling solutions due to its higher Tc of 70oC and it is 55% lower in weight compared to the current generation. Next to that the Fortimo LED DLM Gen4 consumes less power, making it compatible with lower power drivers. The Fortimo LED downlight modules continue to offer high qualitative white light and easy glare control due to diffused light. The Philips Lumileds Luxeon Rebel ES, the LED light source within the Fortimo LED DLM system, continues to improve its performance. This, in combination with the patented Philips remote phosphor system, guarantees superb light quality and extraordinary color consistency will be provided.
Pim Kemps, Philips Product Manager for Spot and Downlight LED modules,
OEM Lighting Sources & Electronics: "With this upgrade, Fortimo LED DLM stays the ideal LED system solution for high quality, low glare downlight solutions. It is another example of our commitment to continuously offer higher efficacies without changing the dimensions or lumen output of the system, the Fortimo future proof approach"
The Gen4 modules will not be compatible with the traditional Fortimo LED DLM driver range. For an optimal Fortimo LED DLM module – driver combination the advanced Xitanium LED driver range offers the best solutions. Philips Xitanium LED drivers come in different form factors and are characterized by high efficiency, light weight, central DC operation, SELV and hot wiring possibility. Xitanium drivers come in fixed light output or DALI dimmable (TD) and Trailing edge (TE) diming versions.
The Fortimo LED DLM Gen4 modules, as well as the Philips Xitanium driver range are commercially available. Additional information can be found at www.philips.com/technology
About Royal Philips Electronics
Royal Philips Electronics (NYSE: PHG, AEX: PHIA) is a diversified health and well-being company, focused on improving people's lives through meaningful innovation in the areas of Healthcare, Consumer Lifestyle and Lighting. Headquartered in the Netherlands, Philips posted 2011 sales of EUR 22.6 billion and employs approximately 122,000 employees with sales and services in more than 100 countries. The company is a leader in cardiac care, acute care and home healthcare, energy efficient lighting solutions and new lighting applications, as well as male shaving and grooming, home and portable entertainment and oral healthcare. News from Philips is located at www.philips.com/newscenter
Contact
Astrid Jacobs Philips OEM Light Sources & Electronics EMEA
E-mail:astrid.jacobs@Philips.com
Web Site:www.philips.com/technology