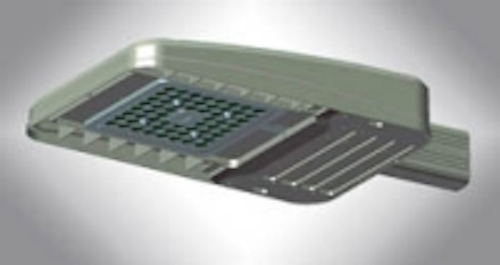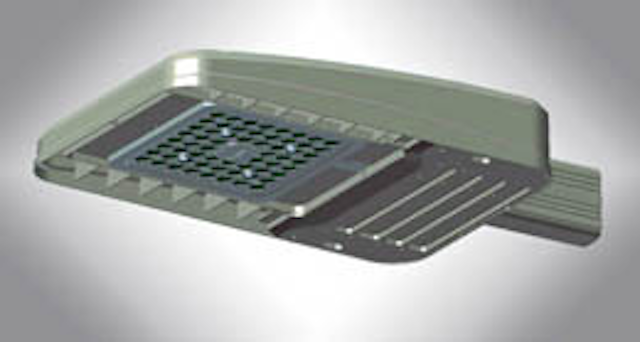 Date Announced: 19 Nov 2012
New Product Introduction: Viper — Two compatible models and sizes of pole-mounted LED roadway, walkway and parking-lot lighting that place crisp, white, long-lasting light precisely where it is needed; at motorist and pedestrian levels.
Product Design: Beacon Products In-House Product Development and Engineering Team.
Manufacturer: Beacon Products, founded 1978; a division of Hubbell Lighting, Inc.
Product Applications: Viper replaces up to one 1000-watt metal halide or high-pressure sodium lights in the same applications, as retrofit or new installation. Either large (VP-L) or small (VP-S) models in a range of ten energy-saving wattages, seven distribution patterns, five mounting options, save copious amounts of energy with minimal maintenance requirements. Viper qualifies for LEED points on projects and exemplifies energy-efficient contemporary design.
Viper places direct-downward high color-rendition light along primary, secondary or tertiary roads; pedestrian walkways; public/private parking lots or curbside parking; in cityscapes, suburban or semi-rural applications. Viper is Dark-Sky compliant, low-glare; minimizes light trespass, spillover or wasted light.
Product Description: Both Viper models have slender, curved aerodynamic lightheads suggestive of a serpent's head. Either model complements newer or older roadways or structural architecture.
Integral sloped flow-through vertical cooling fins on the surfaces retard sediment or moisture buildup. Less heat trapped within Viper luminaires significantly reduces junction temperatures, maximizes LED light output and 50,000-hour rated lamp and electrical-component life. Critical LED components remain cool; no grates, screens or other debris-control devices are necessary. Viper fits genuine Beacon round or rectangular poles, or other brands.
Models are available with LED arrays ranging from twenty-two to ninety-six LEDs, in square or rectangular patterns, multiple wattages, all on thermally efficient metal-clad circuit boards. Viper has no additional at-installation ventilation requirements. IESNA Type II, III, V and other light-distribution patterns available.
Individual drivers are sealed to IP66 or IP67 standards, and are located on the inside of a removable swing-down door. This hinged screw-fastened door provides access to LED drivers and the time-saving push-button terminal block. A field-rotatable, twist-lock photo-control receptacle is optionally available for use with standard or "smart" control devices. Viper is CSA certified for wet locations, employs UL recognized components, made in the USA in Beacon's modern plant.
Construction and Finishes: Viper housing and door are precision-tooled die cast aluminum. Powder coating is standard. The product is subjected to a unique Beacon 5-step chromium-free pre-treatment by full-immersion, prior to painting process.
Viper employs Lifeshield™ thermal regulation circuitry. LED luminaires may be subjected to excessive operating temperatures. Lifeshield controls driver current to the LEDs and, if necessary, reduces that current via the dimming drivers, ensuring that maximum operating temperature of components is not exceeded.
Ordering Information: Literature, specifications and pricing for the new Beacon Products Viper, or any of the wide-ranging, state-of-the-art outdoor, site and landscape lighting products within the overall Beacon Products collection, can be obtained by contacting Beacon Products, LLC, 2041 58th Avenue Circle East, Bradenton, Florida 34203. Telephone: (941) 755-6694. Fax: (942) 751-5535. E-mail: info@beaconproducts.com. Learn more about Beacon Products by visiting them on the World Wide Web at: www.beaconproducts.com.
Contact
Bill or Nancy Schoenfisch SCHOENFISCH INCORPORATED 336 County Highway 24 Richfield Springs, New York 13439 (315) 858-8393/Phone (315) 858-9635/Fax
E-mail:info@beaconproducts.com
Web Site:www.beaconproducts.com