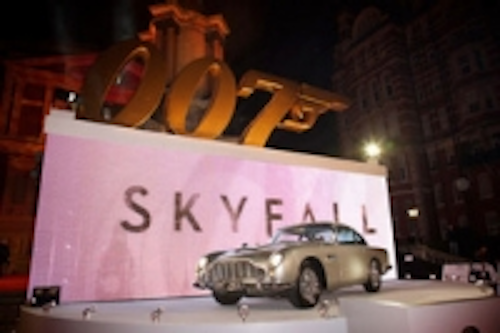 Date Announced: 26 Nov 2012
XL Video, commissioned by Limited Edition Events, recently supplied 300 tiles of their bright and vibrant Pixled F-12 LED for the Royal Premiere of the new James Bond film, Skyfall.
The star-studded red carpet event, held at London's Royal Albert Hall, was attended by HRH Prince Charles, the Duchess of Cornwall and the stars of the film along with a host of other celebrity guests.
After attendees arrived on the red carpet and ascended the stairs towards the Royal Albert Hall they were met with the sight of the classic Aston Martin DB5 with a backdrop of 75 tiles of Pixled F-12.
This stage was used for interviews with the stars of the film hosted by David Walliams and Natasha Kaplinski.
To the right and left of the stage two additional tall LED displays, each with 141 tiles of Pixled F-12 displayed pre-programmed content including movie logo animations, and photos of the film's characters.
A final run of F-12, two tiles high and 80 tiles long, appeared to the left of the stage, as a backdrop to the red carpet walkway to the door of the Royal Albert Hall.
XL's Project Manager, Mark Rooney specified Pixled's stunning F-12 LED for this prestigious event due to its high brightness and excellent clarity – the perfect complement for images from one of the best-loved movie franchises ever.
In addition Pixled F-12 is also suitable for outdoor use – essential for the unpredictable British weather!
The build for the event took 2 days and was followed by an even quicker tear-down as the Royal Albert Hall was scheduled to host a different event the following evening.
"Building the screens took up most of the day," explains Rooney, "However the bigger challenge was that we had less than two hours to break the screen down! Bearing in mind none of the screens were flying, all were ground stacked or dead-hung, we needed a fabulous crew of LED engineers on site to achieve this.
"The pin-point planning by the great team from Limited Edition really helped us to get in and out efficiently. It was a pleasure to work with them."
MD of Limited Edition Events, James Barnfather commented: "The South steps of the RAH are a tricky place to work at the best of times; lots of surrounding neighbours and a strict noise curfew meant nothing could move until 08.30.
"Couple this with shows inside the RAH each day, and our build time decreased from two clear days to less than 12 hours. Working with Mark Rooney we decided to use the F-12 screen in tandem with XL's superb touring dolly system. This allowed us to realise our original design with the confidence that it could be installed in our very tight build window.
"The production was a great success, the screen looked stunning both on the red carpet and on camera. Feedback from around the globe has been incredible. A big thank you to Mark and the team, and an even bigger thank you for getting it all out in under 3 hours!"
Photo Credit:David Dettmann Photography
Contact
Louise Stickland +44 (0)1865 202679 +44 (0)7831 329888
E-mail:louise@loosplat.com
Web Site:www.xlvideo.tv