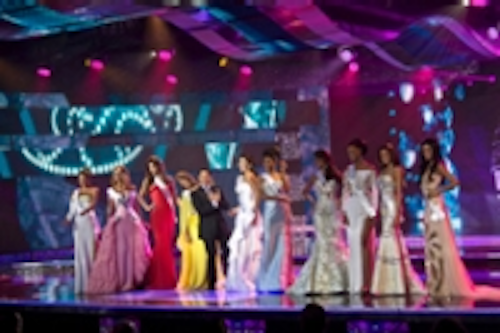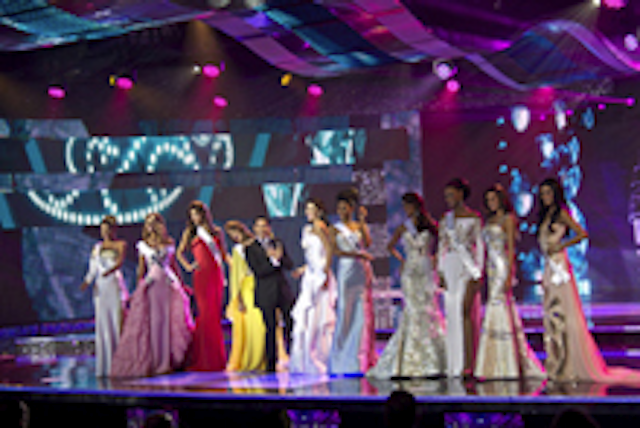 Date Announced: 30 Nov 2012
Caracas, Venezuela — The ever popular Miss Venezuela Pageant saw the radiant addition of 54 CHAUVET® Professional fixtures, used as principal downlighting and audience lighting by Lighting Designer Roberto Penso.
Penso worked with a smaller-than-usual stage for this type of show and to design lighting for the audience and for TV. Trying to find suitable lights to work around the low ceiling at Hotel Intercontinental in Caracas, Penso tested CHAUVET® Professional Q-Wash™ 560Z-LED fixtures—provided by VLPS of Venezuela—and decided they were perfect for the show.
"The colors and the brightness are spectacular," Penso said. "They change colors very fast, have great saturation, and perform in sync all the time. The Q-Wash™ 560Z-LED moving yokes were the only lights in the show that didn't fail."
Penso also took into consideration that the Miss Venezuela Pageant is a televised show, which means the lights needed to be suitable for on-camera use and especially for HD rendering. "A little while ago LEDs didn't look too good on TV," he said. "But now, since the Q-Wash™ 560Z-LED lights use Cree LEDs with high CRI value, color rendering is no longer a negative issue specially with the HDTV technology, which perceives colors more accurately; these LED fixtures performed amazingly well."
Carrying almost 30 years of experience in the lighting industry, Penso worked with various artists from Venezuela and North America, such as Franco De Vita, Carlos Vives, Ricardo Montaner and many more. He said the CHAUVET® Professional fixtures are very reliable and will definitely use them again for future shows.
To light the audience, Penso also used 36 CHAUVET® Professional COLORado™ 1 Tour wash lights, for their color changing capabilities and sturdiness. Q-Wash™ 560Z-LED features a wide zoom range, variable beam angle and powers out an impressive 13,100 lux at 5 meters. The incorporation 91, calibrated high intensity RGBWA Cree LEDs ensures a uniform wash, excellent color rendering and a vast color palette of soft pastels and vivid hues.
"Thank God I had those lights. They were right what I needed and saved the show," Penso said.
Contact
800.762.1084
E-mail:sales@chauvetlighting.com
Web Site:www.chauvetpro.com