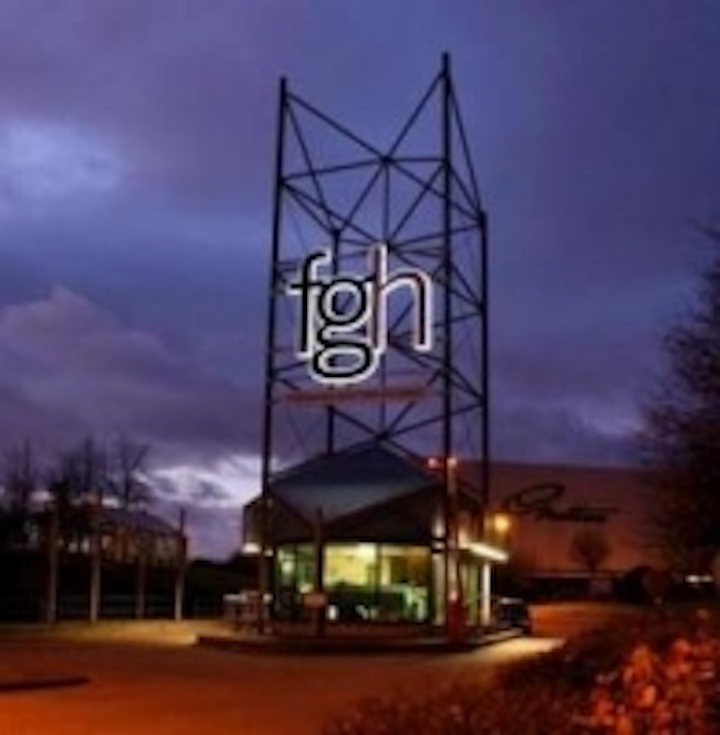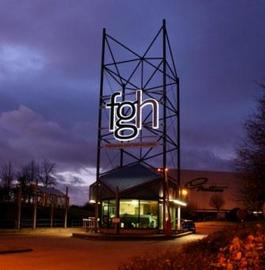 Date Announced: 31 Jan 2012
Bradford-based New Vision Signs & Graphics has installed illuminated signage – among the largest it has ever produced – at the 786,000 sq ft sq ft warehousing facility of multi-channel retail group Freemans Grattan Holdings (FGH) in Listerhhills, Bradford.
Lettering for the sign at the FGH gatehouse on Thornton Road is 5m high and spans 6m between two vertical pillars.
Tony Stead, business development manager of New Vision in the city's Ventnor Street, said: "The project was challenging due to the scale of the signage and its position on the gatehouse structure. We called in a structural engineer to design the steel support frame.
"The letters are fabricated in steel and house low energy LED light modules, creating a subtle 'halo' illumination at night. The sign is very imposing and forms an impressive welcome to FGH's Listerhills site – both day and night.
"LED technology is prevalent in a growing number of industries and the signage sector is no exception. Our clients are becoming increasingly aware of the benefits of low energy consumption LEDs, coupled with reduced maintenance costs due to their long life and reliability."
FGH is currently rationalising the use of its various facilities around Bradford and as a consequence of this some head office staff will relocate from the headquarters at Ingleby Road to Listerhills.
At the same time, the company is looking for a new office property near to the centre of Bradford. The move coincides with the 100th anniversary this year of Grattan, a Bradford-born business founded in 1912 by the Fattorini family.
Freemans and Grattan were acquired in 1999 by the German-based group, Otto, and merged under the Otto UK umbrella a year later. The parent company in the UK was renamed Freemans Grattan Holdings (FGH) in 2009.
The company has since undergone a major restructuring and has transformed itself from a somewhat old fashioned catalogue merchant to a major online retailer.
FGH CEO Koert Tulleners commented: "As part of the centenary celebrations, a journalist has been commissioned to investigate the history of Grattan and a book detailing the last 100 years of 'Home Shopping in Bradford' will be published in the first half of 2012.
"We have big plans to celebrate Grattan's landmark 100 years in Bradford in 2012. The new signage at Listerhills is a beacon for FGH, as we enter a brand-new era in our long history. We remain a major player in Bradford and seek to use companies on our own doorstep like New Vision, both in support of local businesses and the local economy."
Contact
Robin Moule 01756 794027
E-mail:robin@moulemedia.com