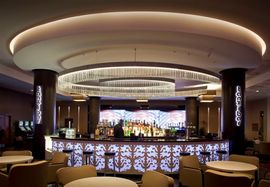 Date Announced: 19 Jan 2012
Alliance Lighting UK were approached by Gravity Design to help them in their quest to source some impressive bespoke pendants for one of the UK's largest ever Casino's; Asper's, at Stratford City.
As partners with several of the world's best architectural lighting manufacturers, Alliance Lighting UK provides world-class products and service to UK lighting specifier's and they were able to call upon ALM; a prime manufacturer of standard and bespoke architectural lighting products.
Their products are inspired by the architect's design and sense of scale, as well as the requirement to appropriately illuminate the space.
As a producer of bespoke products that are perfect for use in large public areas where a well-proportioned luminaire is needed to illuminate the space, ALM rose to the challenge set by the lighting designers at Gravity Design.
ALM were tasked to manufacture the Asper's Casino "trademark" pendant; large rings with glass drops, which would create a glamorous and fun feeling in the huge arena at Asper's.
In order to give a dramatic and lavish feel to the Casino, the sizing and quantities of the pendants were paramount.
All fittings are made with 7W/m LEDs that are reflected in the glass drops which contribute to the sparkle and add a sense of excitement to the venue
To manufacture and transport these large pendants and then assemble them on site, so that they appeared seamless, was a huge undertaking as the fittings were also to be used as general lighting, not just to enhance the mood.
"Often our clients are looking for lighting solutions rather than simple product information. Our technical and service led approach to lighting sales is organized to support design efforts. The close relationship that we build between our clients, manufacturers and staff delivers a totally unique approach that can service the project from design concept through to installation" reports Douglas James, Director of Alliance Lighting UK.
"Alliance Lighting delivered this custom project on time and on budget using ALM, which is impressive considering the quantities involved and the compressed time frame. They did a great job of taking our initial sketches through to a really high quality product. Casino's depend on great lighting and Alliance Lighting helped Gravity Design achieve a great result for the client" says Graham Walmsley, Director of Gravity Design.
Asper's Westfield Stratford City will set a new benchmark for casinos in the UK. As the first "large" casino licence in the country, the 65,000 sq ft venue will offer extensive gaming and leisure activities not permitted in other casinos as well as 2 bars and an 80-seat casual dining restaurant.
Contact
Suzanne Wardley - Alliance Lighting 0207 923 0509
E-mail:media@alliancelighting.co.uk
Web Site:www.alliancelighting.co.uk