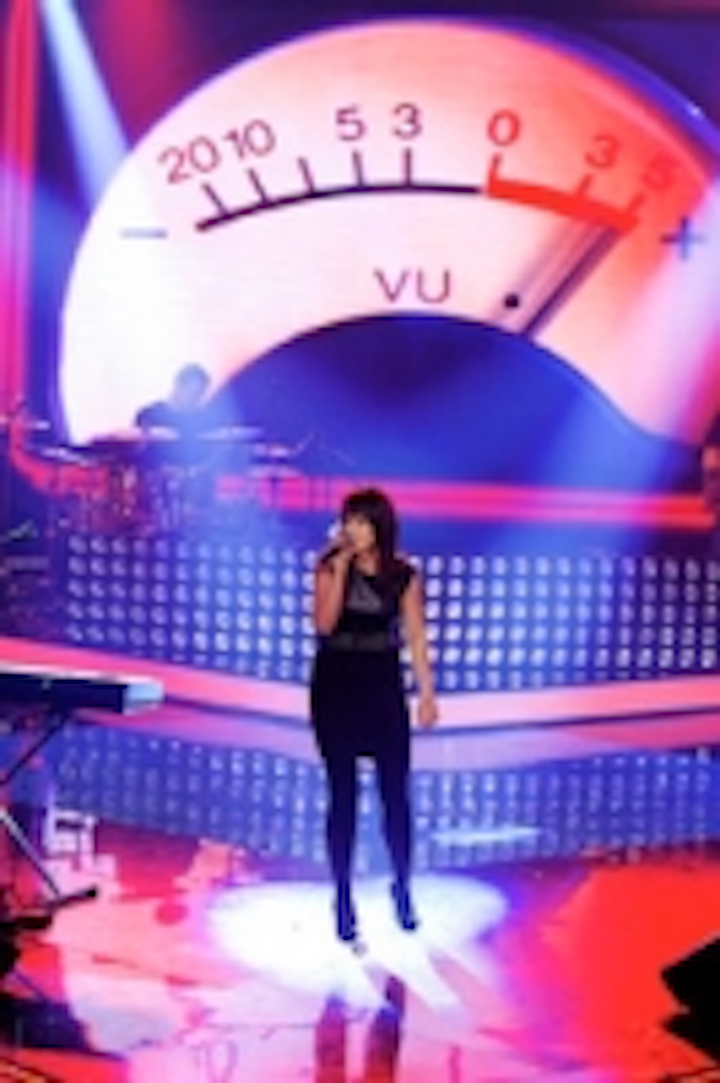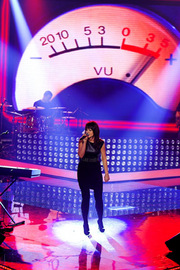 Date Announced: 27 Jan 2012
Robe MMX Spots were among over 50 Robe moving lights supplied by Slovakia's top technical production rental company, Q-99, to lighting designer Martin Kubanka for STV1's new music series, "Slovakian Legends of Pop", aired live during Friday night prime time on national TV channel STV1.
The 9-week Legends of Pop series was recorded at STV's studios in Slovak Republic capital Bratislava. It culminated in the presentation of songs from one of the most famous bands from the Czech/Slovak region, Elán, whose incredible forty year career went 'meteoric' back in the 1970s.
The format of the show each week highlighted the work of one legendary artist or band. Seven of their most popular landmark songs were reinterpreted by today's top stars, and the original artist would then close the programme with two of their greatest hits. It has been a massive success and has celebrated a wide selection of music and styles.
Martin Kubanka is among Slovakia's leading television lighting designers – in fact, a bit of a legend himself in his own field of work! He was asked to light the show on the strength of his long and illustrious track record.
He jumped at the chance to specify the ten Robe MMXs, as they had just arrived into Q-99s rental stock – which includes hundreds of Robe fixtures.
Taking the LED oriented set design by Michael Brna - which utilised three different types of LED - as a starting point, Kubanka needed some seriously powerful lightsources on the rig to hold their own amidst all the LED!
The MMXs were rigged above the mid-stage area, and were used to light the forestage areas with very bright beam and gobo effects.
The first time the programme's director Tomas Eibner saw them in action – he was absolutely bowled over …. loving how they look on camera! The standard set of MMX gobos has also been specifically designed with TV applications in mind.
Kubanka made extensive use of the MMX's 8.5 – 46.5 degree zoom range and its iris features in addition to the gobos which he used sparingly and in a more theatrical style, particularly for the looks in which the LED surfaces were less prominent.
Other Robe fixtures on the rig included 14 Colorwash 1200E ATs - six on the floor and eight in the air on the overhead trusses, all used as effects lights. Twenty ROBIN 600 Beams in the roof made fabulous punchy down lights, and another 12 on each of three left and right set columns combined to provide some very striking cross stage beams, providing a highly visible contrast to the LED panels.
For the closing scenes with Elán onstage, ten ColorSpot 575E ATs and four LEDBlinder 96s were also used for additional lighting.
Kubanka wove a selection of conventionals into the rig, together with LED lightsources and white lights, all of which – along with the Robes – were controlled and run by him through a grandMA2 full size console.
Another grandMA2 full size ran four MA media servers, which fed video content to all the LED surfaces, operated (on an alternating basis) by Marek Krasnan and Michael Brna from Q-99's video department.
Even though it was not a massive rig, using all the latest Robe technology and his prodigious imagination, Kubanka managed to magic up an original look and feel for all the different performers appearing each week. "It's absolutely brilliant," he comments, "Having all this flexibility at my fingertips".
Q-99 made a substantial investment in new Robe moving lights in 2011. This has already paid off in gaining new work based on some of the initial shows on which it has been used, which have included "What is My Hit" (CZ), Let's Dance (SK) and many others.
Q-99's Marek Adamik comments, "We have used Robe for many years now, and from a rental company perspective it's ideal as the kit is well made and very reliable. However, the latest ROBIN series, including the LEDWash 600 (Robe's biggest selling unit ever) and the MMX (the 'next generation' 1200 type series fixture) have really raised the bar …… and taken moving light technology to another level".
Contact
Louise Stickland +44 (0)1865 202679 +44 (0)7831 329888
E-mail:louise@loosplat.com
Web Site:www.robe.cz