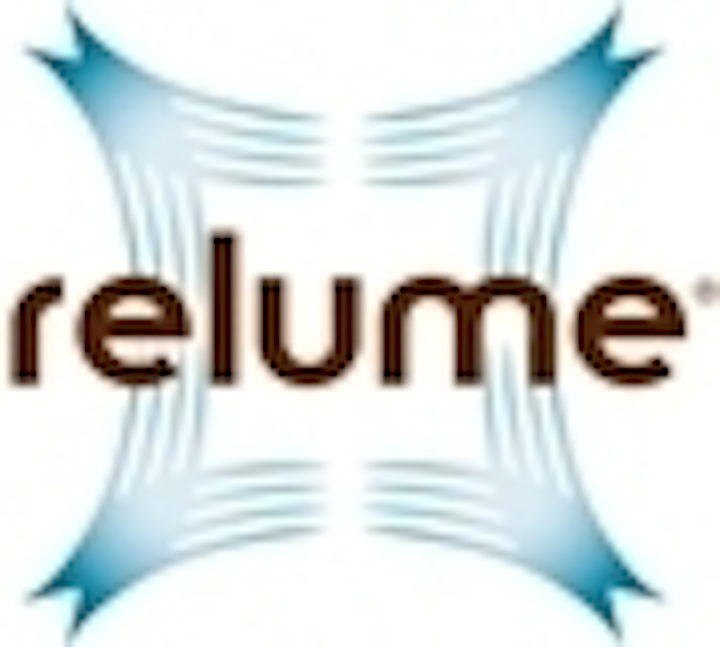 Date Announced: 26 Jan 2012
Oxford, Mich. - Relume Technologies, a leading manufacturer of light-emitting diode (LED) products and smart grid control systems for outdoor lighting applications, has named Randy Kimmel as Director of Government Sales, reporting to Patrick Gee, Senior Vice President of Services.
"We are pleased to welcome this 28 year lighting industry veteran to our team," said Crawford Lipsey, CEO for Relume. "Randy's outstanding sales record and experience in the renovation and government sales arena makes him uniquely qualified for his new role."
Kimmel will be responsible for the introduction and continued development of Relume's product sales to state and federal governmental agencies, and the U. S. military. He also will be responsible for lighting and controls sales initiatives targeting the renovation, DOT and airport markets, as well as sales generated through the American Reinvestment and Recovery Act (ARRA).
"Relume has been providing innovative LED lighting technologies to businesses, municipalities and U.S. military for a decade. With Kimmel's expertise, Relume will now focus on broadening its reach to serve other segments of the U.S. government," said Lipsey.
Kimmel joins Relume from Acuity Brands Lighting where he served as the energy services manager responsible for Acuity's development and growth in the renovation and LMC markets. He began his lighting career in 1983 at Western Florida Lighting, where he held a variety of sales roles. In 1989, he joined Leesman Lighting in Cincinnati, Ohio and held a senior sales position. In 1995 he moved to Lighting Concepts and Controls as vice president of sales; becoming the agency principal in 2000.
A native of Kentucky, Kimmel has a Bachelor of Science degree in biology and sports medicine from Western Kentucky University.
About Relume Technologies
Relume Technologies is a Mich.-based manufacturer of highly efficient, environmentally friendly, and cost effective LED lighting products and control systems. The company's innovative technology is used in municipal lighting, commercial signage, outdoor advertising, transportation, and U.S. military applications. Relume's products are American-made, ISO 9001:2008 certified and carry an industry leading seven year warranty.
Relume is a founding member of the Michigan Solid State Lighting Association, and supports the organization's mission of ensuring that Michigan is a global leader in solid-state lighting, research and development, and manufacturing. Relume was recently recognized as one of Michigan's 50 Companies to Watch by the Edward Lowe Foundation. For more information, visit www.relume.com.
Contact
Media Contact Andi Jenkins Beringea Phone: +1.248.489.9000
E-mail:ajenkins@beringea.com
Web Site:www.relume.com