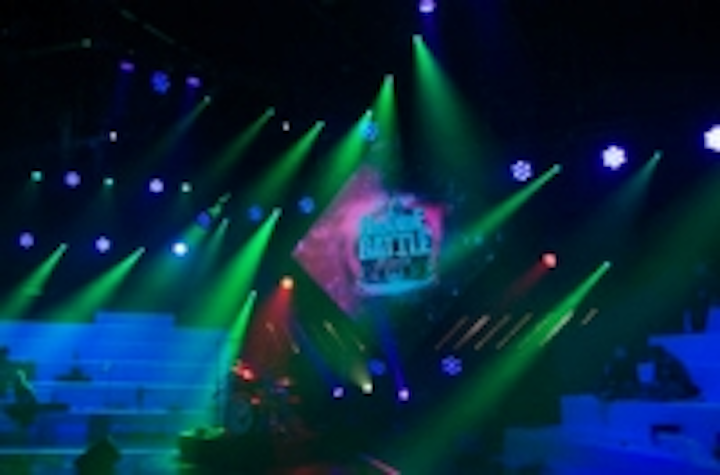 Date Announced: 02 Jan 2012
Lighting Designer and DOP David Seligmann-Forest from Lite4Life used Robe ROBIN MMX Spots, ROBIN 600E Spots and LEDWash 600s to light 'La Grande Battle', a live TV presentation aired on French network France 2.
Ten major European stars from a diversity of musical genres – rock, pop, rap, flamenco, opera, brass band, etc. - battled it out to win the final of this popular series for the best re-interpretation of classical songs and music. They were selected from over 300 bands by the public vote via the website.
Hosted by popular TV presenter Nagui and classical musician Jean-Francois Zygel, the artist line up for the final included Italian opera singer Roberto Alagna, Anguun, France's 2012 Eurovision Song Contest hopeful and French jazz singer and guitarist, Thomas Dutronc .
There was also a 90 piece orchestra. It was recorded in the large Euromedia Studio 217, at the Studios de France in Paris.
The Robe equipment included 24 ROBIN MMX Spots, 40 ROBIN 600 LEDWashes, 14 ROBIN 300 LEDWashes and 16 ROBIN 600E spots, which, together with various other fixtures were spread out around the studio in the air and on the floor.
Seligmann-Forest was brought onboard to design the show's lighting by production company Banijay Productions, with whom he has worked on several previous projects.
He is a great advocate of Robe products, and has been using the brand in his work for 10 years – since Robe first launched as a brand in its own right. A massive amount has happened in that time, and Seligmann-Forest has used most of Robe's new technologies as they have come on-stream.
"I am a real fan, and in fact, I think Robe are the world's best lighting fixtures!" he enthuses.
The newly launched ROBIN MMX was specified for La Grande Battle final because of the 8.5 – 46.5 zoom and the extremely bright beam, which he reckons is far more efficient than any competitor product in that range …. or even some of their higher powered fixtures. He also thinks the MMX Spot's gobos and dual animation wheel are excellent.
Having all these Robe units at his disposal offered exactly the right creative tools to be able to light the show dynamically and differently for each different contestant and their performances. It was essential that each had a unique look, and he also illuminated the eye-catching set, designed by Michèle Sarfati – Teledeko in original and complimentary ways.
The La Grande Battle final lighting was run through two consoles - a grandMA and an ADB desk - operated by Xavier Gruchet from Pixelux, and the equipment was supplied by two rental companies Lightco from Paris and Yes from Froyennes – Tournai in Belgium, who provided the Robes.
The winners - of 20 000 Euros worth of music instruments - were Accordzéâm with their rendition of "La symphonie du nouveau monde et d'ailleurs" by Anton Dvorak.
Contact
For more press info. on Robe Lighting, please contact Louise Stickland on +44 (0)1865 202679/+44 (0)7831 329888 or Email 'louise@loosplat.com'. For more product and general info, check www.robe.cz or call + 420 571 751 510.
E-mail:louise@loosplat.com
Web Site:www.robe.cz