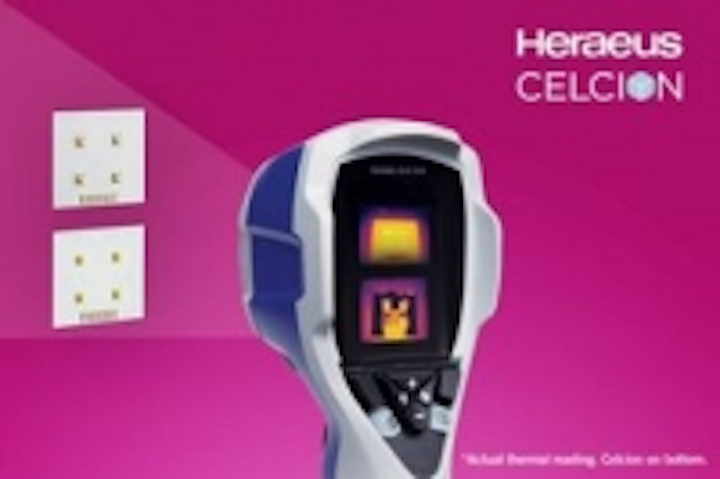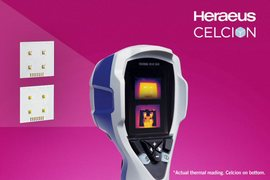 Date Announced: 31 Jan 2012
West Conshohocken, PA – The Thick Film Division of Heraeus Precious Metals, a precious metals and technology company, has announced a new name, Celcion™, for its Insulated Aluminum Materials System.
Heraeus has also launched a new Web site, http://celcionled.com/, and will feature Celcion at Booth 508 during the Strategies in Light 2012 conference and exhibition, Feb. 7 - 9, Santa Clara, Calif.
Heraeus Precious Metals North America Conshohocken LLC, Thick Film Division, is a worldwide supplier of thick film pastes, LTCC materials and precious metal powders to the hybrid microelectronics industry. The Thick Film Division offers products for thermal management applications, including LED packaging, power modules, and electronic heating units.
Celcion, a Thick Film Materials System designed to insulate aluminum substrates, takes the same fit and form as traditional MCPCBs, while providing thermal conductivity and high dielectric breakdown strength. It is a simplified additive process that is faster, easier to use, and requires less materials than MCPCBs. The system allows circuits to be built directly onto aluminum substrates, eliminating the need for thermal interface materials. This allows Celcion circuits to run 10°C cooler than MCPCBs.
According to Mel Mehta, Sales and Marketing Manager at Heraeus, the Insulated Aluminum Materials System needed a name that conveyed the distinct advantage of the technology. "The process offers better thermal management and allows LED circuits to run cooler than MCPCBs," said Mehta. "We named the technology 'Celcion,' from the word 'Celsius,' to define the process in a memorable brand."
Traditionally, MCPCBs are constructed using a subtractive process – adding material and then removing the material. This can take several steps and is a waste of costly materials. Celcion features a selective additive process – applying material only where it is needed. It is a faster system that uses less material, and allows quick, inexpensive design changes.
Because Celcion circuits run cooler, designers can reduce the number of LEDs while providing the same light output, thereby reducing costs. It is ideal for high-power applications, such as LED substrates (˃1W input) found in general illumination, signs, signals and displays. It also offers increased performance benefits in power electronics, heaters and automotive manufacturing.
"The new Web site (http://celcionled.com/) explains the features and benefits of Celcion, provides links to news articles about the technology, and lists tradeshows where Heraeus will be exhibiting," Mehta noted. "You can also watch a video that describes the differences between the traditional MCPCB process and Celcion, and how LED performance is increased. For specifications and product information, a flyer can be downloaded from the site."
At the Strategies in Light 2012 exhibition Heraeus will introduce the new name for its Insulated Aluminum Materials System. At Heraeus' booth (#508), visitors will be able to "See Celcion in Action." Through live, on-site product demonstrations, Heraeus will show how Celcion is used in manufacturing LEDs, and why it is a viable alternative to traditional MCPCBs.
Heraeus, the precious metals and technology group headquartered in Hanau, Germany, is a global, private company with over 155 years of tradition. Our businesses include precious metals, materials and technologies; sensors; biomaterials, medical products and dental products; quartz glass; and specialty light sources. With product revenues of € 2.6 billion and precious metal trading revenues of € 13.6 billion, as well as more than 12,300 employees in over 110 subsidiaries worldwide, Heraeus holds a leading position in its global markets.
Contact
Anita LaFond 973-992-0715
E-mail:alafond@constructivecommunication.com
Web Site:celcionled.com