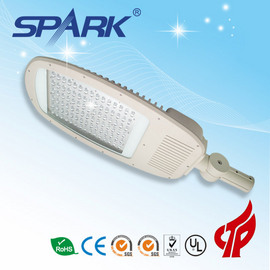 Date Announced: 05 Jan 2012
"The high intelligent LED street lamp industrialization project" which was operated by SPARK was approved by the state ministry of science and technology currently, and was listed as the 2012 national torch project. It is marked that SPARK was not only becoming the leading enterprise who can supply LED street lamp solution project, but also consolidate the status of SPARK in semiconductor lighting industry.
The Torch Plan is a guidance plan which develops Hi-tech industry in China, approved by the State Council in August 1988, organized and implemented by Ministry of Science and Technology, and the aim is to implement the strategy of reinvigorating the country through science and education and to play the advantages and potential of our strength in Science and Technology.
Regard the MCU as management chip, SPARK starts the project "high intelligent LED street lamp industrialization" to realize the high intelligent control LED street lamps, Such as temperature control, light control, different period control, different season control etc intelligent control effect. Second time light lens design distribution is to realize energy saving in second time, and solving the efficiency light maldistribution; Direct heat dissipation structure and integration design is to achieve more energy saving and the environmental protection by intelligent LED street lamp.
After the project implementation, Spark will achieve the patent of this technology transformation and also the existing knowledge property on the basis of the LED street lamp study results, then will improve and strength the key technology R&D, and all standard of the product and core competitiveness, finally form the industrial scale.
The project "high-intelligent LED lights industry" from Spark can be State Torch Program project which demonstrate the capability of independent innovation of Spark photovoltaic research and development. Capabilities have considerable strength, innovation. and enterprise is the core of Spark which enhances the competitiveness of another important sign.
It also shows that the high state and prospects of intelligent LED street lamp market recognition technology. Spark will take this opportunity to continue their efforts to forge ahead, and constantly enhance the capability of independent innovation. On the basis of excellence, Spark will strive to high quality, high efficiency completion of project tasks and get national recognition.
Contact
Keziah Song General Manager Tel: (86 755) 8390 4366 Fax: (86 755) 8390 4766
E-mail:sales@spark-oe.com
Web Site:www.spark-oe.com