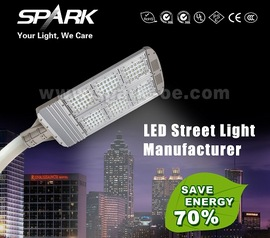 Date Announced: 09 Jan 2012
Spark High power LED Street lights use high brightness United States original CREE LED as light source. It can directly replace the traditional lighting such as high color rendering metal halogen lamp product, and meet adequate, uniform illumination.
The LED Street light we autonomously researched and developed adopting directly heat dissipation structure, with the high coefficient of heat conductivity material lead the heat directly to light radiator and then making use of free convection release the heat. The key deat dissipation technology is strengthening convection between cooling fin and air.
There is another features of new products overall technological innovation and upgrade innovation, e.g. the improvement of 20% the overall lamp luminous efficiency improved 20% ,the temperature decreased 20%,saving 20% , not only has approved UL certification (UL No.: E330332), CE / RoHS certificate, but also did reach a strategic cooperation with Cree company in the international scientific and technological innovation field, all new high-power LED street lights in spark will adopt to original high brightness CREE LED (light efficiency: 90lm / W), energy-saving rate of 70%.
Spark LED Street Light advantages:
1. Achieve ultra brightness/luminance by using original Philips Lumileds LED and Cree LED; energy-saving over 80%; good options to replace the sodium street lamps and other conventional lamps.
2. Outstanding economic benefit: low power consumption; no maintenance cost; long life (more than 50,000hrs).
3. Unique optical design & rectangular beam, suitable for roadway illumination.
4. Special modular design for the LENS (independent modules) and isolated power supply, easy for maintenance.
5. Universal input voltage: 85-300V AC.
6. Light control and time-phased dimming, further achieve energy saving.
7. High quality power supply (NS semiconductor and Japan Rubycon capacitor), reliable and stable; automatically reduce current against overheating working temperature.
8. Intelligent functions and special option available: Temperature controlling, Time controlling by programming power supply IC, Light controlling by adding light sensors, automatically switch ON/OFF; adjustable mounting base addable; connection to remote control system available; customized solution available.
9. UL certification for some models; CE & RoHs for all models.
It is known that, as global marketing more than 150 countries and regions, SHENZHEN SPARK, is one of the largest solar photovoltaic lighting, LED lighting manufacturers, suppliers and exporters, has more than 12 years of development and production experiences.
Meanwhile, relies on innovation and research, including the Chinese Academy of Sciences, Guangdong University of Technology, South China Normal University, Hong Kong Polytechnic University, including a top hospital schools and research institutions to carry out extensive research strategic cooperation in the utilization of solar energy, wireless lighting control system, LED heat lamps and other fields with dozens of the industry's first breakthroughs in key technologies, and the three ministries have undertaken a national semiconductor lighting demonstration project State Department of Housing and Urban planning projects in 2010, products, quality, performance reached the advanced international level by Independent research and develop the production of high-power LED lights, solar lights, LED traffic lights, LED solar traffic lights, high power LED tunnel lights, LED lamps, LED indoor lighting that have approved CCC, CQC, CE, TUV, ROHS, ETL , PSE, SABS, UL, certificates etc.
Contact
Keziah Song General Manager Tel: (86 755) 8390 4366 Fax: (86 755) 8390 4766
E-mail:sales@spark-oe.com
Web Site:www.spark-oe.com