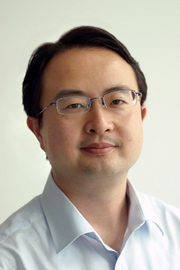 Date Announced: 24 Jan 2012
-- Roger Xiao and Canstarpro Enterprises represent Labsphere in Canada
North Sutton, New Hampshire -– Labsphere, Inc. has appointed Canstarpro Enterprise Inc, founded by former colleague Roger Xiao, the direct Canadian representative for its full line of photometry products and services.
As Labsphere's General Manager for sales and operations in China, Xiao oversaw the company's expansion into Asian markets. With several years of management at Labsphere, he is proficient in all of the company's product lines and applications. Canstarpro will bring a new level of technical sales and engineering support to Canadian customers looking for solutions to a variety of light measurement and photonics applications.
Xiao has over 15 years of experience working in both public and private sectors. Prior to Labsphere, he was the Business Development Manager for Electro Rent Corp. (China), one of the largest test and measurement equipment service providers in the world. Under his leadership, Labsphere (China) was one of the top-performing subsidiaries among Halma p.l.c. group companies in China. Xiao received his BA in English from Beijing Foreign Studies University in China and MBA from Pepperdine University in the US.
Canstarpro's Ottawa, Ontario location enables more efficient communication and continuous support between Labsphere's US headquarters and Canadian customers.
Roger Xiao and Canstarpro Enterprises Inc can be reached at +1-613-282-9328; labsphere.canada@yahoo.ca.
Labsphere, a Halma company, is a world leading designer and manufacturer of precision radiometric and photometric test and measurement products addressing the specific needs of the aerospace, electronic imaging, LED, lighting, medical imaging and optics industries. The company offers a broad line of integrating sphere systems, uniform calibration sources, spectroscopy accessories and diffuse reflectance materials and coatings.
Contact
Labsphere Inc. 231 Shaker Street North Sutton, NH 03260 Tel: +1 603.927.4266 Fax: +1 603.927.4694
E-mail:labsphere@labsphere.com
Web Site:www.labsphere.com