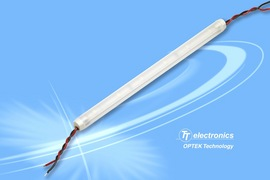 Date Announced: 09 Jan 2012
Carrollton, TX - TT electronics Optoelectronics Business Unit today announced the OPA779 Series of display lighting for indoor illumination. The OPA779 delivers all of the benefits of LEDs – namely energy efficiency, longer life and light quality – in a unique tube assembly that makes it easy for manufacturers to make the leap from fluorescent to more energy-efficient LED based systems. Able to emit a uniform and consistent white lighting pattern within its length, the OPA799 Series provides exceptional lighting for retail display, architectural, under-counter, refrigeration, mobile food service, and point-of-sale displays.
"The OPA779 was designed through collaboration with our customers to produce a solid state lamp that not only provided the benefits of energy efficiency, but also met their needs for a low profile solution with excellent light quality," said Roland Chapa, Product Line Director for TT electronics OPTEK Technology. "We supported those requirements by leveraging our expertise in optics, thermal management and electrical design. In addition, Optek has a proven track record with multi-chromatic tuning to generate a consistent and uniform white light that is critical for aesthetic applications."
The OPA779 Series delivers excellent light quality with a typical LED pitch of 1.5in, and a CCT of 5000K to 7000K. Total luminous flux, depending on device, ranges from 40lm to 180lm, with a maximum current drive range from 35mA to 175mA. Operating temperature ranges from 0°C to +70°C.
The OPA779 series comes in two lengths, with the OPA779D-616 measuring 23.5 inches, and the OPA779D-1169 measuring 46 inches. The OPA779D-616 and OPA779D-1169 solid-state lights can be used as a single unit or connected together in multiples to create scalable configurations. Optek will also build this product in custom lengths for unique applications. The OPA779 is offered with flying leads on both ends for flexibility on interconnect and termination. This scalability and flexibility allows manufacturers to easily retrofit existing lighting systems, or accommodate a variety of new system requirements.
The OPA779 Series is compliant to IP-65 and UL certifications (pending). The OPA799 Series is packaged in an acrylic water resistant assembly suitable for indoor use only. Pricing begins at $13.05 in quantities of 1-99 pieces for the OPA779D-616, and $22.00 in quantities of 1-99 pieces for the OPA779D-1169.
###
About TT electronics Optoelectronic Business Unit
The Optoelectronic Business Unit, a division of TT electronics, is a leading manufacturing and solutions provider for sensing and illumination covering the infrared, visible and ultraviolet spectrum; with standard as well as application specific products for a variety of markets, including, but not limited to office machines, industrial equipment, encoders, automotive electronics, military and high-reliability applications, medical diagnostic equipment and solid-state lighting. Headquartered in Carrollton, TX, the company is ISO/TS16949:2002 and BS EN ISO 9001:2000 certified, as well as ITAR registered.
For further information please visit: http://www.optekinc.com/contactus.aspx, or email the TT electronics North America Sales Office at sales@ttelectronics-na.com.
About TT electronics PLC
TT electronics plc is a focused, global electronics group supplying leading manufacturers in the defense, aerospace, medical, transportation and industrial markets. The Group consists of five divisions: Components, Sensors, Secure Power, Integrated Manufacturing Services and General Industrial each delivering technology, products and services to customers in target markets worldwide. TT electronics plc operates from headquarters based in Weybridge, Surrey, with more than 20 global manufacturing locations and more than 6,000 employees worldwide.
Additional information is available from our corporate website: http://www.ttelectronics.com/.
Contact
Tiana Dixon 503-708-1925
E-mail:sales@ttelectronics-na.com
Web Site:www.ttelectronics.com/