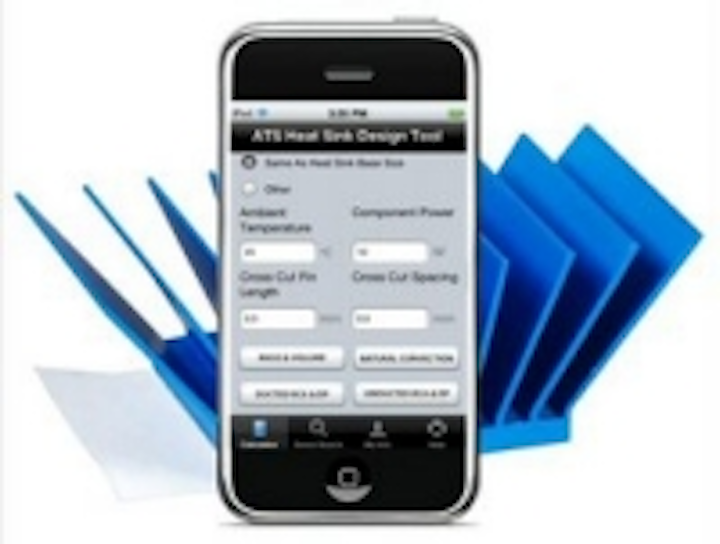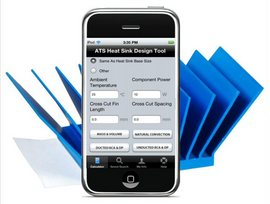 Date Announced: 04 Jan 2012
Norwood, MA -– Advanced Thermal Solutions, Inc., (ATS) a technology leader in electronics thermal management has developed a heat sink design calculator, as an iPhone app, that identifies the proper heat sinks to solve most component-level cooling issues. The app allows engineers to input the essential specs and then research online for heat sinks that fit their requirements.
The new Heat Sink Design Tool app enables users of Apple's mobile devices to design heat sinks for cooling hot PCB components and other electronic devices. Design parameters that the user can enter include the heat sink material (e.g. aluminum), heat sink dimensions (length, width, height) and the number and dimensions of the sink's heat spreading fins.
When the key heat sink specs are entered, the ATS app lets users search a number of databases to find if a sink exists that fits or closely matches the entered data. In most situations, a heat sink is available to match the user's needs. If no heat sink exists, the user can request a free price quote by linking to the ATS website.
The Heat Sink Design Tool app can be downloaded at free from Apple's iTunes App Store. It is compatible with all iPhones, the iPod touch, and the iPad.
For more information or to download the app, go to: http://itunes.apple.com/app/hs-design-tool/id489837645?mt=8
About Advanced Thermal Solutions
Advanced Thermal Solutions is a leading engineering and manufacturing company supplying complete thermal and mechanical packaging solutions from analysis and testing to final production. Founded in 1989 as a consulting company, ATS has evolved to a complete thermal solutions provider and is world renowned for its portfolio of more than 450 high- and ultra-performance heat sinks, research-quality test equipment, and leading-edge R&D.ATS provides air and liquid cooling solutions, laboratory-quality thermal instrumentation, along with thermal design consulting services and training.
Contact
Norman Quesnel, Senior Member of Marketing Staff Advanced Thermal Solutions Inc. 89 Access Road Norwood, MA 02062 T:781.949.2523 F:781.769.9979
E-mail:nquesnel@qats.com
Web Site:www.Qats.com