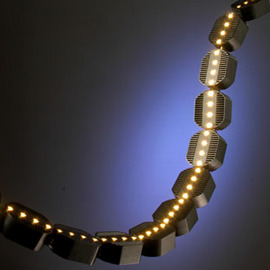 Date Announced: 25 Jan 2012
David Morgan Associates (DMA), the award winning luminaire design consultancy, will present the new Radiant 3D LED Flex linear system at ARC 12 (Architectural, Retail and Commercial Lighting) Show. This is the fifth consecutive year that the company has exhibited at the ARC Show.
Radiant 3D LED Flex linear system
The Radiant 3D LED Flex linear system is designed for use in a wide variety of interior and exterior architectural lighting applications where linear lighting needs to follow complex curves and building profiles.
Joints between the heat sink LED modules allow the system to bend and twist in three dimensions while maintaining a constant LED spacing without dark spots or shadows and allowing the modules to be aimed after installation to provide a precise lit effect
The main lighting applications include indirect cove lighting and direct wall washing and wall grazing.
The system is available in three sizes and will have versions for interior use IP 20 and for exterior use with an IP rating of IP 65.
The large interior size shown in the photographs has already been installed in a major project in Azerbaijan where over 350 mtrs were used to provide indirect lighting for a concert hall interior. The large passive heat sink is designed to operate the LEDs at their specified working temperature, with light outputs up to 5,000 lumens per mtr in warm white.
The full range will include RGBW and adjustable colour temperature white versions and a variety of lenses and other secondary optics to control the light output.
DMA is a London-based international design consultancy specialising in luminaire design and development. The firm has designed over 1,000 luminaires during its 30 years in business. Visit www.dmadesign.co.uk for further information.
Contact
Jo Browne David Morgan Associates Tel: + 44 (0) 20 8340 4009
E-mail:david@dmadesign.co.uk
Web Site:radiantlights.co.uk