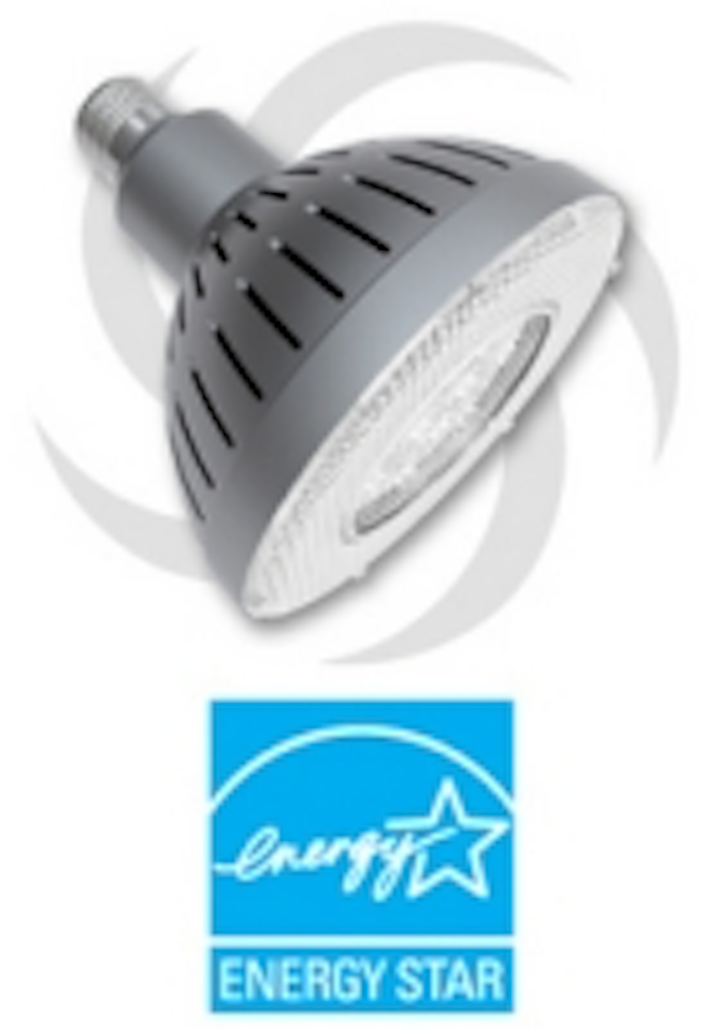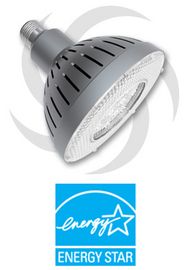 Date Announced: 31 Jan 2012
Stamford, Connecticut – Following the recent receipt of Energy Star® certification on several of its most popular LED lamps, Solais Lighting, Inc., a leading manufacturer of lightweight, specification-grade LED lamps featuring exclusive, actively-cooled Luxiance® thermal management technology, is proud to announce that it has just received official Energy Star® certification on a number of other popular LED models as well.
Originally receiving Energy Star certification on the 25-degree versions of the following LED lamps, Solais has now achieved Energy Star certification on the 15-degree and 40-degree versions as well:
• "LR38" PAR38 Replacement – a 21 Watt, 3000K LED lamp delivering 1250 lumens
• "LR38" PAR38 Replacement – a 21 Watt, 3000K LED lamp delivering 1100 lumens
• "LR30LN" PAR30 Long-Neck Replacement – an 18 Watt, 3000K LED lamp delivering 975 lumens
By meeting the elite specifications of the EPA/DOE's Energy Star program, the Energy Star label awarded to Solais Lighting's LEDs assures the marketplace that these lamps lower greenhouse gas emissions by a threshold level relative to other lighting products available in the industry and significantly reduce energy consumption and costs without sacrificing performance, features, and comfort.
"We're very excited to now have nine versions of our PAR38 and PAR30 Long-Neck LED replacement lamps recognized by the Energy Star program and to have received this critical, industry-benchmark certification," says James Leahy, president of Solais Lighting. "As a leading provider of cutting-edge LED lamps, our Energy Star certification now further qualifies our products for a broad range of utility and state rebate and incentive programs nationwide and helps assure lighting professionals and end users everywhere of the benefits of high quality and sustainability they will derive by choosing Solais for their LED lighting needs."
All of Solais Lighting's new Energy Star-certified LED lamps feature the company's exclusive Luxiance® Thermal Management Technology, which utilizes a unique active cooling system to deliver superior light output and performance.
Providing the high light output and full-dimming capabilities of halogen incandescent sources in the industry's lightest-weight housing, Solais Lighting's LED lamps deliver a new standard of efficiency and performance to the market's broad range of commercial, museum, retail, and hospitality applications.
About Solais Lighting, Inc.
Based in Stamford, Connecticut, Solais Lighting is a market-driven manufacturing company which is passionate about improving environments through innovative, energy-efficient LED lighting solutions. Solais has designed and built the world's premier LED lamps, with the lightest weight, highest output, and focused-beam and full-dimming features required to replace halogen lamps. Solais' high-performance products are ideal for track and recessed fixtures in commercial, museum, retail, and hospitality applications. For more information on Solais Lighting or its products, call (203) 683-6222 or visit www.solais.com.
Contact
George Stroumboulis (203) 683-4138
E-mail:george@solais.com
Web Site:www.solais.com