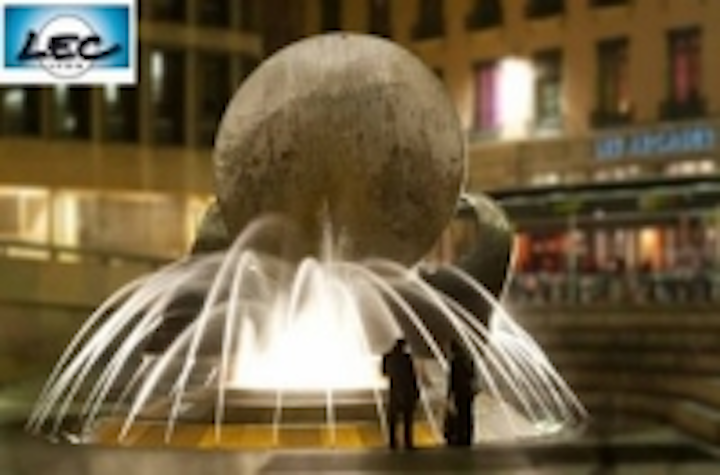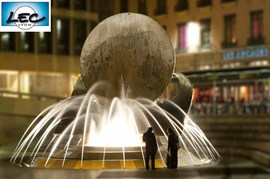 Date Announced: 26 Jan 2012
Lyon (France) redefines four fountains to massively reduce energy costs!
Seeking to combine high quality lighting in accordance with its policy of energy savings, the city of Lyon turned to LED lights to renew four of its fountains.
LEC, a specialist in LED lighting for over 35 years, has collaboratively developed a range of submersible luminaires designed to fulfil the brief whilst also aware of the difficult environmental conditions of public fountains.
The improved performance of the LED sources, combined with the LEC's product innovation, offers both a powerful economic rationale and low total cost of ownership for submersible lighting.
The Submersible LED: Cutting Edge technology
Initially, LEDs were too small and weak to generate the powerful lighting effect desired when submerged. However the LED has recently developed to give enough power to be an effective solution. The holistic reasoning is now even more pertinent, with LED now preferable to energy intensive traditional lighting that local authorities are now seeking to avoid. These recently completed projects confirm not only technical and artistic merit but also support from the communities who have vocally wished for more in the future.
LED: source of consistent savings
Low power consumption
For the same emission of lumens, the LED uses 5 to 10 times less electricity than an incandescent lamp, until now very often used for the enhancement of fountains. This technology appears economical with three characteristics: good performance, scalable power and a choice of lenses in order to focus the light effect to the desired location. With these four newly renovated fountains in Lyon, the city demonstrates how LED's contribute to reduce its annual electricity costs by over 40 (see left)!
Low maintenance
The lifetime of LED is estimated at over 50,000 hours. This is at least 5 times longer than incandescent lighting and therefore limits bulbs changes which are particularly restrictive and expensive when it comes to fountains, due to
the need to empty the water. Maintenance difficulties are common to all underwater luminaires often with chemicals added to fight against limescale and harsh cleaning of the fountain from moss and leaves.
Optimised manufacturing costs
The dimensions of an LED luminaire requires less raw materials for their design, reducing the environmental impact and maximising the ability for perfect placement.
LEC range adapted to the technical constraints of fountains Public fountains introduce innovative luminaires to combat three specific dangers: water, lime scale, and vandalism.
The LEC range of submersible spotlights has the necessary technology to withstand the challenging environment of these structures:
- IP68 Certification, a protection class of luminaires for permanent immersion.
- IK10 solid (resistance to 20 joules) thanks to a vandal resistant window.
- Specific stainless steel coating to withstand aggressive fountain chemicals (chlorine, bleach, acids, descaling agents…).
- Thermal protection to compensate for temperature changes. The spotlights will turn off automatically in case of overheating.
LYON: ENERGY SAVINGS
2011: LEC equips Lyon fountains with submersible LED spotlights as part of the Lyon energy saving policy.
Four of the main fountains of Lyon, in the heart of the city, have just been fully equipped with LEC lighting and produce an identical light effect (Product Reference 4022X Luminy 2 and 4042X Luminy 4):
- République : 32 000 kW/h of annual savings. This represents cost divided by 9.
- Célestins : 4 222 kW/h of annual savings. This represents cost divided by 3.
- Maréchal Lyautey : 5400 kW/h of annual savings. This represents cost divided by 43.
- Louis Pradel : 12 755 kW/h of annual savings. This represents cost divided by 6.
(Figures provided by the services dept. City of Lyon.)
Lyon, an ambitious lighting policy and challenge to reduce energy consumption!
In 1989, the City of Lyon launched the first European lighting plan, to work on the enhancement of buildings and heritage of the city.
In 2003, Lyon committed to a second light plan, with an ambition to reduce the electricity bill to lower than in 1989.
The challenge is significant: to keep an enhancement programme of public realm, while operating a huge reduction in energy consumption.
The Kyoto Protocol pushes the city to go even further. In 2012, the objective is to reduce electricity consumption by 5.2% less than in 1990!
Interview with Frédéric Durand,
Manager of public lighting in the city of Lyon and responsible for the project of the four fountains renovated by LEC.
What were the technical difficulties on this specific renovation site of fountains?
The renovation is always a difficult task, especially when a sealing requirement is involved. This required additional work of adaptation, covering and connection.
Why did you choose LED to upgrade the lighting of fountains in Lyon?
We have tested many solutions to compare several technologies and technical options. We chose LED for its compact size, which makes it easy to hide. The lifetime of the luminaire was also crucial as maintenance is particularly difficult in fountains. On the other hand, intensive and highly accurate beams of the LED are particularly suitable for artistic enhancement of water jets.
Why did you choose LEC?
We proceeded to a tender to meet the public procurement rules. LEC was selected for technical criteria and price.
How would you describe your collaboration with LEC?
It was significant that the company was able to adapt to the specific needs of each fountain and performed a completely bespoke piece of customised work to fit each location. They were responsive to unexpected problems and were able to provide the perfect solution.
Photo: Xavier Chabert
Contact
LEC Lyon LED MARKER-LIGHTS AND SPOTLIGHTS Heidi Pugniet-Boeck phone +33 4 37 48 31 00
E-mail:hpb@lec.fr
Web Site:www.lec.fr