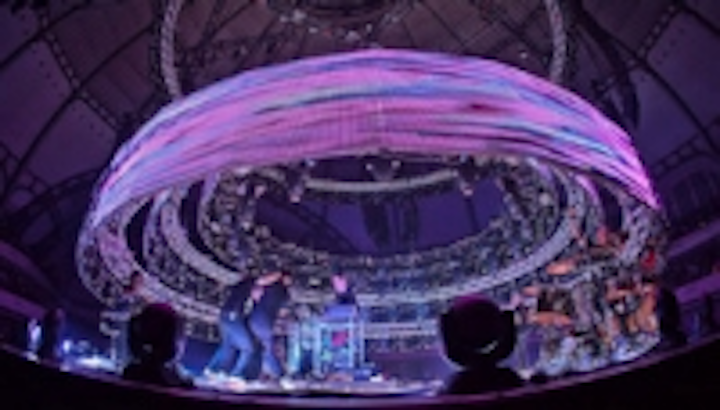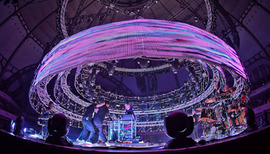 Date Announced: 05 Jan 2012
Germany's biggest and best known hip-hop band – Die Fantastischen Vier – AKA Fanta 4 just concluded their latest sold-out arena tour with an equally fantastic set, lighting and visual design by Gunther Hecker.
The tour culminated in a spectacular home-coming performance by the band at Stuttgart's Hanns Martin Schleyer Halle.
Hecker – one of Germany's most innovative designers - worked in close collaboration with Marc Lorenz, who looked after all the LED screen and video elements, to create the show and specify the equipment. It has been acclaimed as one of the best stage presentations of Die Fantastischen Vier's long and eventful career which has put German hip-hop on the map.
Hecker has worked with the band since 1993 – and seen them undergo much evolution yet always staying at the forefront of the genre – edgy and accessible and one of the country's most critically and commercially recognised artists.
Hecker had always secretly longed to design an in-the-round show for them – thinking that the architecture and geometric form offered by geodesic circles and the 360 degree aesthetic would be perfect for their hi-energy performance and enhance their already close interactive bonds with their audience.
Until now, they always resisted, saying they didn't like the idea! However, knowing them so well, Hecker took his chances and presented the idea, convinced the time was right. He asked the band for 15 minutes in one of the early pre-tour meetings to convince them of his concept ….. and they went for it!
Once agreed, it was down to Hecker and his creative vision and talented team to pull out all the stops to make the production as exciting, incendiary and energetic as possible to match their performance.
Lighting and Set
The 14 metre wide circular stage was built with a combination of Lite Structures' standard and custom products. It featured four five metre thrusts, each at 90 degree intervals around the stage.
Above, it was crowned by four circular trusses at 8, 10, 12 and 14 metre diameters, with the three smaller ones all on a 18 axis Cyberhoist system, operated by Ingo Koenzen, allowing them to move into a dynamic section of different positions.
Five hydraulic rams were integrated into the stage and used for entrances, one in the centre and the other at the stage end of each of the thrusts. The show started with a lone sampler slowly elevating on one of these and the four Fanta 4 members mid stage, silhouetted by a hand-held photo-flood lamp against a circular cloth that kabuki'd in to reveal them.
The five piece backing band remained playing under the stage for the first three numbers and then made their entrance as the excitement and anticipation built, and the full show kicked in.
Below the Macrolon topped stage was 100 square metres of Martin Professional LC LED screen, which provided another trajectory of lighting and for those sitting higher up in the bleacher seating, an additional visual dimension.
The perimeters of all the above-stage trusses were clad with 1 metre high Pixled F-15 LED tiles – in total amounting to 140 square metres.
The smallest - 8 metre - circle was also rigged with 16 Robe ColorSpot 2500E AT moving lights, 8 Martin Atomic strobes and 12 ETC PARs … and these were the only lights directly above the stage.
Four spine / finger trusses stretched out above the thrusts, each rigged with seven Robe ColorSpot 2500E ATs and seven ColorWash 2500E AT moving lights – chosen for their power and punch - plus two Atomics and nine square 4-lite Moles.
The lighting on these was ideally positioned for illuminating the runways and also blasting into the audience. A key part of the performance was to pull the audience into the action and ensure that they felt part of the show, so Hecker's lighting and programming played an essential part in evoking this emotional response and connection between the band and their fans.
Circling the stage on the floor were 30 x JB Lighting A7 LED wash lights and four smoke machines were also on the floor for atmospherics.
Hecker operated the lighting using a Road Hog Full Boar console with a wing, complete with hot backup.
It was a relatively small rig in terms of fixture numbers for the stature of the show, but the effect and impact proving that you don't have to have the most and the biggest, you just have to choose your media carefully and program and plan with intelligence and feeling.
Video
Video also played a major role in the visuals, and was completely integrated into the design from the outset, with Hecker and Lorenz also mindful to avoid all the current video and LED clichés!
The video screens were sometimes also used in a lighting role, with all the "regular" lights turned off and just the screens as the lightsource.
On the video control side of the show, they worked closely with Fantastichen Vier's AndY (Andreas Rieke) who is a bit of a wiz with digital and electronic challenges. He designed a custom control solution for the visual elements based on Apple's Quartz Composer software system.
Live-Video/IMAG was used in about 70% of the show and the screens were active throughout. There were seven cameras in total for IMAG, three operated Sony DXC30Ps in the audience and three Panasonic Domecam remotes onstage, plus a Toshiba 1KHRIS full HD camera placed centre-stage, and fitted with a 360 degree lens to produce special effects in two songs.
These were directed and mixed by Franz Schlechter using a Panasonic AV-HS400A, and he also designed and produced all the show playback content and ran both that and IMAG live.
The playback material was stored on one of four Mac Pro desktops - one running the Quartz Composer with two inputs – IMAG and playback footage - with both sources manipulated live using Modul8 real-time mixing VJ software running on another Mac Pro and Quartz Composer, which did most of the IMAG treatment.
This was all then fed into a Catalyst media server Mac Pro, used just for mapping the outputs to the different screen surfaces. The fourth Mac Pro was a backup.
The video control system was set up and overseen by Marc Lorenz. The video sequences and effects were mainly triggered via MIDI from AndY's samplers, but once running, some were 'played' live in real time by Schlechter, challenging the Mac Pro's NVIDIA Quadro 4000 graphics cards to crunch some serious numbers …. To which they delivered time and again!
The set up enabled some truly organic mixing and matching between lighting and video effects, like in "Le Smou" where the hue of the video outputs was shifted to match Hecker's lighting changes – in a beautiful fluid visual harmonisation together with the rhythm and vibe of the music.
Says Hecker, "We created a special look that was a perfect fit for the band and their stage-presentation and resulted in a great audience experience. After working for almost 20 years with them, it was great to see how they embraced the in-the-round, filling it with life, and integrating all the technic aspects so harmonioulsy with their on-stage behaviour. Working so closly with AndY was really interesting. He made it possible to create some interesting looks and effects using the Quartz-Composer system that I had never seen or thought of before!"
The tour was production managed by Christof Matthiesen. The 11 trucks of equipment was supplied by Satis & Fy AG, Werne – all video, sound and lighting kit apart from the LED panels; XL Video Germany, Munich – Pixled LED screen; PRG Germany from Hamburg - Martin LC LED frames; and Gunther Hecker GmbH Heidelberg - stage set and hydraulics.
Contact
For more press info, please contact Louise Stickland on +44 (0)1865 202679/+44 (0)7831 329888 or Email 'louise@loosplat.com'. To contact Gunther Hecker GmbH direct, please call +49 [0]2389 92 59 18 0 or check www.gunther-hecker.de
E-mail:louise@loosplat.com
Web Site:www.gunther-hecker.de