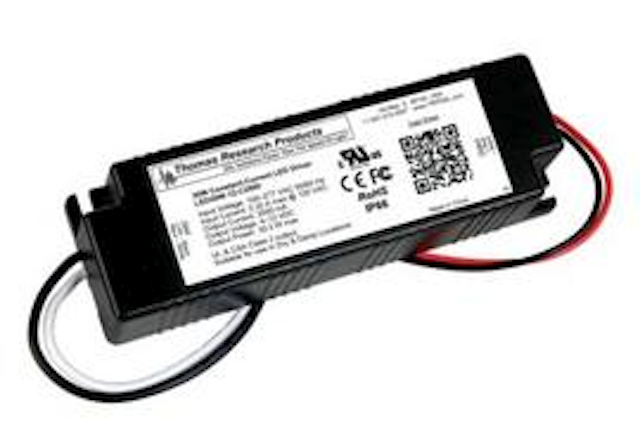 Date Announced: 21 Aug 2012
Huntley, Illinois - Thomas Research Products has launched a program to utilize QR codes on their standard line LED Driver product labels, which provide a direct link to data sheets on the company website. Thomas Research Products is a leading manufacturer of SSL power solutions.
Anyone with a smartphone, such as an iPhone or Android phone, will be able to use the built-in camera and a QR reader app to immediately access complete technical information on a LED Series Driver from the TRP website. This is not only helpful for lighting manufacturers who create LED luminaires, but also technicians who install or service them in the field. Each product also includes a separate label with serial number and date of manufacture for complete traceability.
Thomas Research Products strives to provide timely information and high quality service to their customers as well as high quality, long-life products. Along with QR-codes on product labels, the company provides 3D models of their LED Drivers for their customers to use in product design, plus UL COA's. Information to help customers and users utilize the QR codes to access the company information is available on the website FAQ page.
About Thomas Research Products
Founded in 1997, Thomas Research Products designs, manufactures and supplies advanced drivers and power solutions for solid state lighting. Every design is optimized for quality, efficiency, long life and cost-competitiveness. TRP also manufactures energy-saving electronic controls, surge protectors, switches and relays for commercial HID and fluorescent lighting in indoor and outdoor applications.
Contact
Michael Wypasek Thomas Research Products 11548 Smith Dr. Huntley, IL 60142 847-515-3057
E-mail:michael@ trpssl.com
Web Site:www.trpssl.com