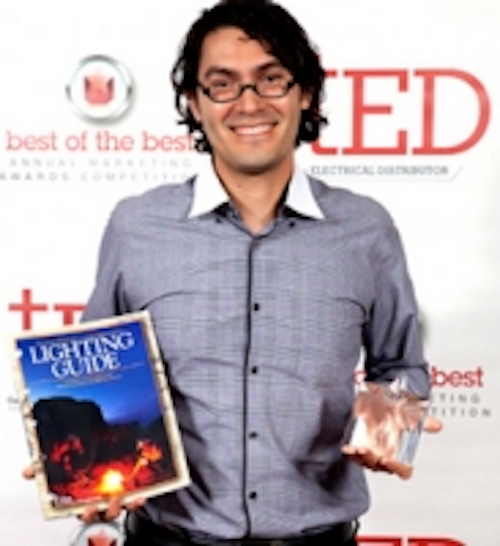 Date Announced: 29 Aug 2012
tED recognizes Fulham in both the Publication and the Literature/Selling Tool Categories
Hawthorne, CA – The Electrical Distributor (tED), the official publication of the National Association of Electrical Distributors (NAED), has honored Fulham Co., Inc. with two 2012 Best of the Best Marketing Awards for its COMPREHENSIVE LIGHTING GUIDE. This global catalog won in both the Publication and the Literature/Selling Tool categories.
Best of the Best Judges Katrina Olson and Shad Thomas presented the award to Director of Marketing Jay Matsueda (pictured) at a special ceremony on August 21st, in Chicago, IL.
The COMPREHENSIVE LIGHTING GUIDE, informally referred to in the industry as "the lighting bible," is equal part show piece and global catalog, replete with educational information and the histories of the development of each lighting system type that Fulham offers: LED, LED & Photoluminescent Egress, HID, Induction, Fluorescent, Halogen and more. Fulham transformed the requirement for a standard product catalog into an opportunity to create a multi-purpose, global marketing piece that enhances the Fulham brand, bolsters its credibility as a lighting authority, and truly engages & entertains users, thus securing its place as a regularly-used resource kept close at hand (or bookmarked, with respect to the online version at www.fulham.com).
For 43 years, tED magazine has recognized the electrical industry's top marketing initiatives with its Best of the Best competition. tED magazine serves as an industry source for trends, best practices, and news happening throughout the electrical supply chain. Fulham is one of 38 electrical distributors and suppliers honored this year across 14 categories.
ABOUT FULHAM
Fulham Co., Inc. is a leading global supplier of electronic ballasts, lamps, LED modules & drivers, induction lighting systems, electronic transformers, emergency lighting, wiring harnesses and custom assemblies. Fulham's product quality and customer service rank amongst the highest in the industry. Fulham has facilities dedicated to sales and service excellence in North America, Latin America, Europe, Asia, Africa, India and the Middle East. Fulham's product diversity and excellence is due in part to its international staff of world-class engineers and production experts, as well as its commitment to leadership in product innovation. Fulham is dedicated to being the leader in cost-effective and energy-efficient lighting solutions.
Contact
Fulham (323) 599-5000
E-mail:order@fulham.com
Web Site:horse.fulham.com