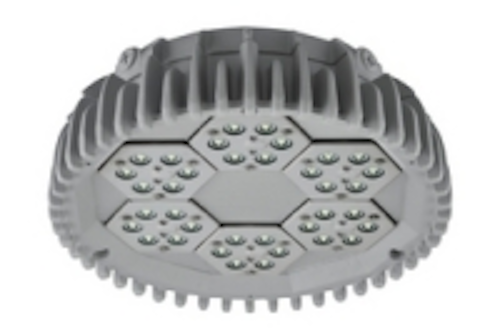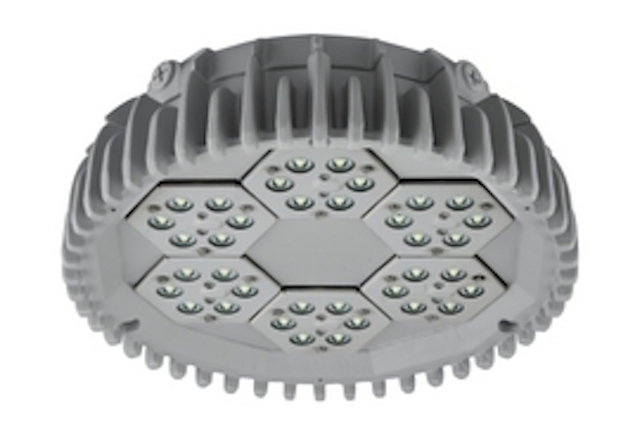 Date Announced: 15 Aug 2012
Greenville, S.C. -- Hubbell Lighting's outdoor lighting brand, Hubbell Outdoor Lighting, has announced the launch of its new Sedona LED surface mount luminaire. Designed to provide a unique, high performance illumination solution for surface ceiling mount and parking garage applications, the Sedona LED luminaire delivers the ultimate in performance, energy savings and versatility. The Sedona fixture is part of the Southwest series offered by Hubbell Outdoor Lighting and Spaulding Lighting brands.
With a selection of three lumen packages from 3700 to 8600 lm (18-36 LEDs), the Sedona provides excellent uniformity and control in a choice of symmetric and asymmetric distributions. Utilizing innovative engineering and advanced LED technology, the luminaire features a hexagonal LED cluster design that provides optical flexibility and light level scalability in a compact package. The design's overlapping redundant patterns of light ensure consistent light level uniformity, regardless of the number of LEDs illuminated. The vertically finned cast aluminum housing provides maximum heat dissipation and helps ensure long component life and luminaire performance. The variety of lumen packages available in this luminaire provides energy-efficient 92-100 lm/W with an ambient temperature of 40˚C.
With measurements of only 4.85" H x 14.00" W and a weight of 16 lbs., the Sedona LED surface mount luminaire delivers powerful performance in a compact, versatile luminaire. The top housing of Sedona allows mounting directly to the ceiling, standard junction boxes or by ¾-in pendant stems, making the fixture adaptable for virtually any application. A specially designed internal hook and hinge allows for hands free installation and separate hinged optical and electrical compartments make the Sedona easy to install and maintain.
Ideal for parking garages, walkways or building canopies, corridors and stairwells, the Sedona LED luminaire is available in a choice of powder paint gray, bronze, black, white or platinum standard finishes. This IP65 rated luminaire is wet location listed and offers complete on/off and dimming operation (0-10V) with optional photocontrol for energy-saving dusk-to-dawn applications, occupancy sensors, and wiHubb wireless controls.
Sedona LED Surface / Ceiling / Garage Luminaire
Key Features:
• Energy efficient LED system (43-86W)
• Lumen packages from 3700 to 8600 lm (18-36 LEDs)
• Multiple distributions: Type V (square and rectangle) and Type IV
• 92 - 100 lumens per watt
• 5000K and 4200K high CRI LEDs provide optimal color recognition
• Long life – 36,000 hr L93 rating – 150,000 hr L73 (40˚ C)
• Vertical fins provide maximum heat dissipation
• Thermal compensation management
• Universal voltage – 120-277V, 347V, and 480V
• IP65 Rating
• Multiple mounting options for easy installation
• Designed for surface, ceiling or pendant mount
• Vandal resistant shield
• Photocontrol, Motion Sensor Control and wiHubb wireless control options
• Listed to UL1598 for use in wet locations
• Five year limited warranty
For additional information on the Hubbell Sedona® LED Surface Mount Luminaire, visit www.hubbelloutdoor.com.
About Hubbell Lighting:
Hubbell Lighting is one of the largest lighting fixture manufacturers in North America. The company provides a full range of indoor and outdoor lighting products serving the commercial, industrial, institutional, and residential markets. Hubbell Lighting brands include Alera Lighting, Architectural Area Lighting, Beacon Products, Columbia Lighting, Compass Products, Devine Lighting, Dual-Lite, HomeStyle Lighting, Hubbell Building Automation, Hubbell Industrial Lighting, Hubbell Outdoor Lighting, Kim Lighting, Kurt Versen, Prescolite, Progress Lighting, Security Lighting, Spaulding Lighting, Sportsliter Solutions, Sterner Lighting Systems, Thomasville Lighting, and Whiteway.
Contact
Hubbell Lighting Ken Beale, 864-678-1704 Director, Marketing Services kbeale@hubbell-ltg.com
E-mail:kbeale@hubbell-ltg.com
Web Site:www.hubbelloutdoor.com