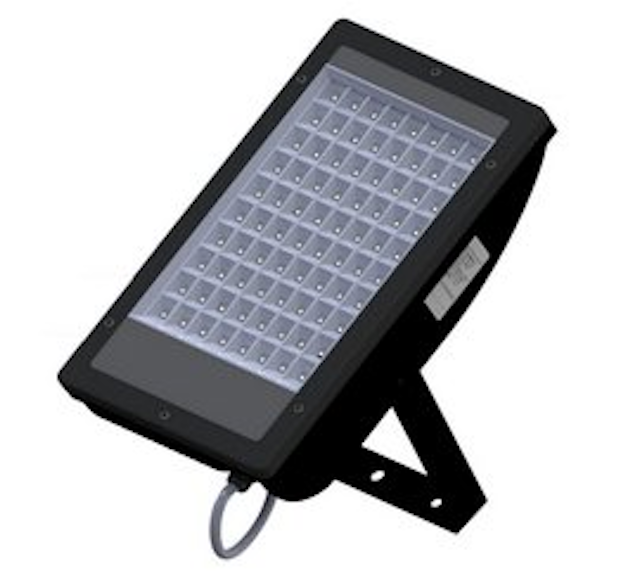 Date Announced: 21 Aug 2012
Ulverston, UK - The latest Marl International LED floodlight produces 50% more light than the previous model for the same power. Their high efficiency of over 80 lumens / Watt means that they qualify for an Enhanced Capital Allowance (ECA) claim and have a payback of less than two years based on energy savings alone.
The new version of the Marl 748 series draws just 60W but can be used to replace a 500W linear halogen lamp, using 88% less energy to produce the same light output. It can also replace a 100W metal halide lamp. The 748 series also delivers considerable maintenance cost savings, with its long rated life of 60,000 hours, equivalent to over 13 years at 12 hours per day. In this time, a halogen floodlight would need to be replaced 30 times, based on a standard life of 2,000 hours. Marl is offering a five-year guarantee on the light.
Commenting, Adrian Rawlinson, Managing Director of Marl said, "Given that replacing a floodlight normally requires the hire and use of an access platform, Marl LED floodlights can be justified financially on the reduction in maintenance costs alone. On top of that, they use significantly less electrical energy."
Designed and manufactured in the UK, the new Marl 748 series floodlight is just 10cm deep, but delivers nearly 5000 lumens from an input power of just 60W. Marl 748 series floodlights are packaged in a robust die-cast, powder coated aluminium housing protected by tempered glass. The units are weather-proof, being sealed to IP66 standard, and are suitable for operation between -30°C and +45°C. Marl has designed the floodlights in accordance with world-wide electrical safety standards. It weighs just 8.1kg.
About Marl International:
Marl International has specialised in the design and manufacture of visible LED indication and illumination components and systems for nearly 40 years. As UK distributor for Citizen, Lighting Science and Bivar and hub of a pro-actively managed international supply chain, Marl has unique access to some of the best Solid State Lighting and Electronics technology in the world. It integrates these technologies into energy efficient lighting and indication solutions. Marl International has world class design and manufacturing facilities, staffed by 120 highly trained and experienced specialists operating from a single site on a dedicated technology park in Ulverston, England. As a unified team, they offer agility, speed, flexibility, and willingness to respond to both needs and expectations as projects evolve and mature through the entire product life cycle. Marl partners with leaders in Defence, Aerospace, Entertainment, Transportation, and Lighting industries in the UK, Europe, North America, and Asia. Website: www.leds.co.uk
Marl is a quality company. It is registered to BS EN ISO 9001:2008 standard and fully RoHS and WEEE compliant.
Contact
Elaine Hobson Neesham PR 7 Station Approach Wendover Bucks HP22 6BN Tel: 01296 628199
E-mail:elaineh@neesham.co.uk
Web Site:www.neesham.co.uk