Luminit Announces First in a Series of Variable Optical Diffusers
Aug 7th, 2012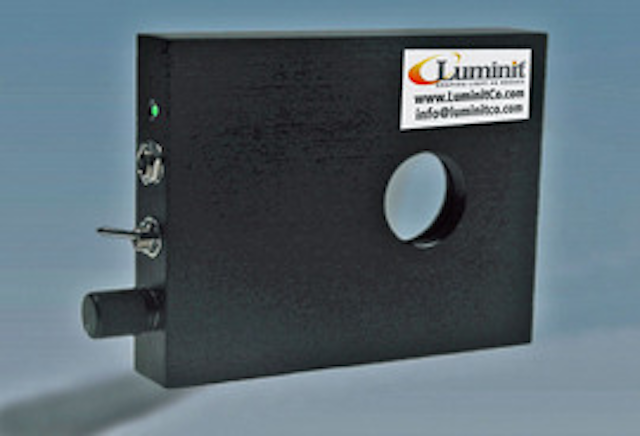 Date Announced: 07 Aug 2012
Luminit, a world-wide leader in light management solutions, announces
their new EVD line of Electronically Variable Diffuser products. These devices offer precise electronic control of the diffusion angle from 1 to 70 degrees for optical experimenters.
The manually controlled EVD-M units are available immediately and the USB controlled EVD-U units will be available in the near future. The USB controlled unit provides digitally repeatable diffusion angles
as well as user-definable response curves.
These products are specifically designed for optical bench applications such as laser beam angle control, bio-photonics and bio-chemical research, neutral density filtering, detector sensitivity control, and optical characterization of materials.
Electronically Variable Diffusers allow researchers at optical laboratories to have continuous variable control over diffusion angle while eliminating the inconvenience of changing fixed diffusers. For optical table use, the diffuser aperture is 1 inch in diameter to fit both C-Mount and 1 inch optical accessories, but future products for other applications can have a diffuser of any size and shape up to 2 square feet. OEM kits will be available for product developers who want to transition their bench-top designs into products.
Engin Arik, PhD, Chairman, President & CEO of Luminit commented "We are excited to add this new line of Electronically Variable Diffusers to our established line of Light Shaping Diffusers®. Going forward, we expect to tailor these variable diffusers to many different customer and OEM requirements."
Luminit is a privately held, high technology company specializing in custom and standard holographic diffusers based on multiple technology patents. Luminit's commercial experience covers applications including LED lighting, architectural lighting, bio-medical illumination, semiconductor metrology,
aerospace, automotive, laser and display applications. Luminit's Light Shaping Diffusers (LSD's®) are available directly or through a network of domestic and international distributors.
Contact
Peter Zinsli pzinsli@luminitco.com Tel: (310) 320-1066, x314 www.luminitco.com
E-mail:pzinsli@luminitco.com
Web Site:www.luminitco.com