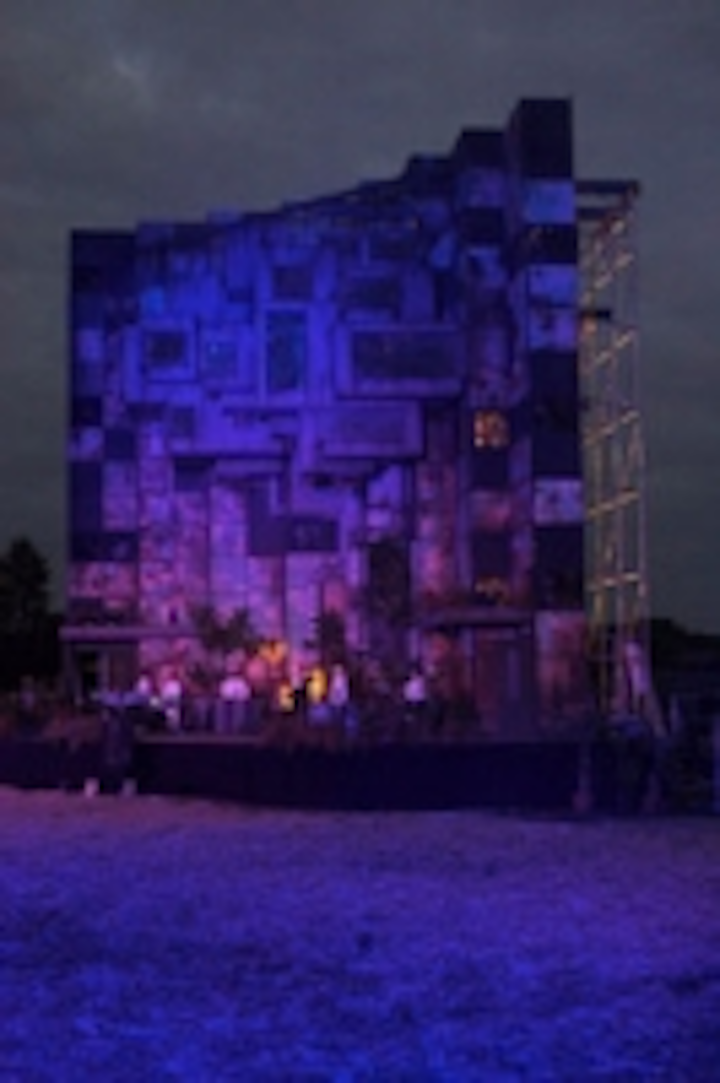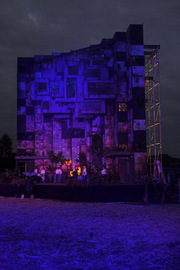 Date Announced: 11 Aug 2012
Lighting design firm Renegade used LED and other low-energy sources to light the Tree of Light performances at the London 2012 Festival.
Nick Gray of creative lighting and design practice Renegade combined his skills and experience in the disciplines of entertainment and architectural lighting to produce a stunning, dramatic lightshow for the recent Tree of Light performances, which were part of the London 2012 Festival.
Gray was asked to light a spectacular Tree set structure created by Block 9 (Gideon Berger and Steve Gallagher) for the event – which toured to three outdoor venues in Reading, Oxford (as part of the Olympic Torch relay) and Henley.
Block9 and Renegade have collaborated on many previous festivals and events, and Gray was, "Very excited to take up the challenge"
"The Tree structure was truly impressive" he explains, "Big, bold and making a real statement on one hand, whilst also involving many intricacies and detail, all of which needed highlighting diligently can carefully".
Central to his brief for lighting the Tree was that Berger and Gallagher wanted it to appear like there was '50 tonnes of concrete floating in the air'!
The imposing Tree formed the backdrop to the performance which was played out on the area in front by 1200 cast sourced from several communities. The Tree also housed the band who played a special soundtrack composed by Orlando Gough for the 45 minute work.
Gray incorporated as many LED and low energy light sources as possible in the design in keeping with the ethos of the project, with some of the lighting actually run via bicycle power.
Another physical challenge he faced was lighting the large cast across the wide area in front of the Tree which also extended outwards both sides.
In addition to that, there was no rehearsal or run through time, so the show was visualised extensively and pre-programmed in Renegade's WYSIWYG suite, enabling Gray and operator Paulus van Heijkant to go into the first show fully prepared with their Chamsys MagicQ console.
A real heterogeneity of lighting fixtures were utilised as Gray needed to light the different areas in very specific ways. The lighting equipment was supplied by Colour Sound Experiment, who are also involved many of Block9's events.
To light the front-of-Tree main performance space two scaffolding towers were erected either side area, and rigged with powerful Robe ROBIN 1200 LEDWashes, bars of 6 PARs and Martin Professional MAC 301 LED lights. These were all chosen to provide the best wash coverage of the outfield.
At the back of the performance areas onstage, Gray used black trussing on its side to provide side and rear lighting positions for the band and stage, onto which were rigged four CP Alpha Beam 1500 moving lights, another eight MAC 301s, six Clay Paky Sharpies, 4-lite Moles and Atomic Strobes.
The 9 metre high Tree was up-lit with a collection of strategically-placed CP61 single PARs, with a Space Flower effect blasting through from the back towards the end of the show as it reached an apocalyptic conclusion.
Around the top of the structure a series of Perspex windowed chambers all featuring various plants and greenery were illuminated with a mix of Alupar 36 Compacts, 3 metre Pulsar ChromaStrips, ChromaZones and Atomic strobes.
A serious amount of smoke and atmospherics were pumped around this area – and out into the performance space below via a Glaciators, unique Hazers and XR33 smoke machines, together with a substantial ducting system.
Lower down were the Bike Pods – also windowed – lit with 15W clear 'golf-ball' bulb festoon lighting outlining the windows, which were self powered by the cyclists inside!
The Bike Pods were additionally lit with MAC 250 Entour moving lights, fitted with ACL snouts, chosen for their compact size, together with Atomic strobes and PAR cans.
Under these pods and behind scenic grills on the front of the structure were more Mac Entours, GLP Impression LED wash lights and more Atomic strobes.
Lighting crew chief Matt Rimmer looked after all of the kit on the road. Tree of Light was artistically directed by Charlie Morrissey and creatively produced by Stuart Collins. The shows were all extremely well received despite the erratic weather, and provided a great prelude engaging many communities in the run up to the Summer Games.
Contact
For more press information on Renegade, please call Louise Stickland on +44 7831 329888 or +44 1865 202679 or EMail : louise@loosplat.com. To contact Renegade direct, please call Nick Gray on +44 7795 095427 or check www.renegadedesign.co.uk.
E-mail:louise@loosplat.com
Web Site:www.renegadedesign.co.uk